Magnifico celebrates one-year anniversary at Waikiki Bar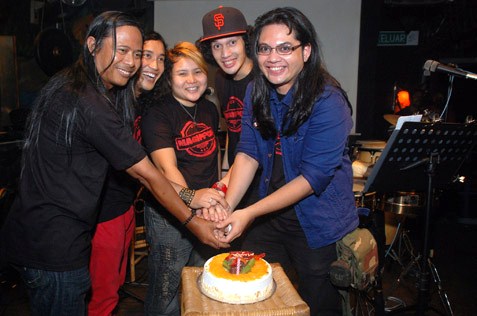 A 5-piece acoustic band Magnifico has been pulling the crowd in Waikiki Bar at PJ Palms Sports Centre, Petaling Jaya where they had been performing since they formed as a group celebrated their one-year anniversary party to a sold-out crowd at the bar last Saturday, September 8, 2012.
There were balloons, a birthday cake, special edition Magnifico t-shirts give-away and hardcore fans comprising a multi-racial mix of Chinese, Malay, Indian and others who had booked tables weeks in advance, crammed into the bar filled to the brim to celebrate with the truly 1Malaysia band which played not only Latin songs as the name implied but also English, Malay, Chinese, Tamil and even Japanese songs to a 1Malaysia crowd.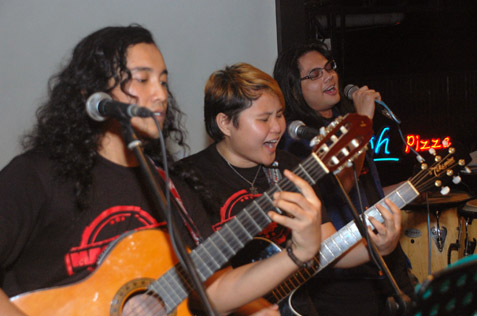 "We have a full house tonight with lot of fans who come here just to watch their favourite band and to celebrate and party with the band so we are very excited about it," said band manager Yesodhra Thevaratnam.
The group features talented musicians Mira Mohd Hatta on rhythm guitar, Oyent Hazryl on percussions, Che Ai on upright double bass, Jay Cugat on lead guitar and Agus Rafiz on drums.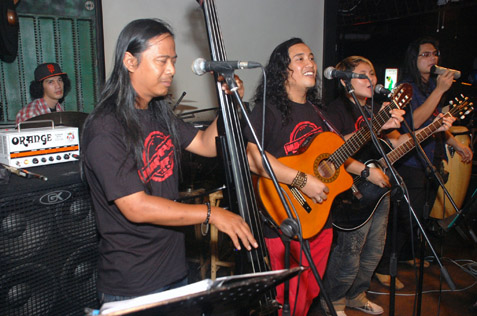 By the time the all-Malay band started playing at 9.00 pm, there was not any room left to stand. They performed in their own creative arrangement spicing up some of the best tunes from the 1960s to the current Top 40 hits but it is their wide range of upbeat Latin and flamenco tunes that make them different.
So when they played fan favorites like "Volare" (Flying) and "Bamboleo," (Let's dance), it got a huge response from the fans. And they kept the fans pumped with favourites like "Long train running", "I have got the feeling", a Chinese number "Xiao Wei" and Malay songs such as "Hijau", "Khayalan" and "Kau ilham ku".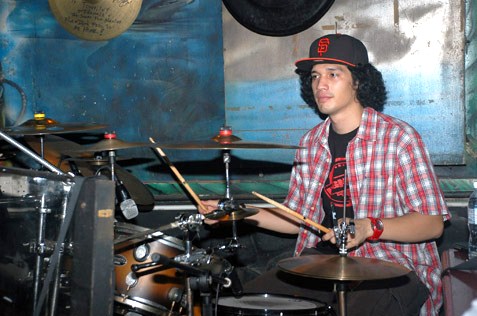 Another fan favourite was the popular Tamil song "Why this Kolaveri Di?" (Why you do this to me?) which had the fans danced to the tune.
Mira, the vocalist, rhythm guitarist and leader of the band said: "We want to thank Tony Siew (Waikiki Bar owner) and all our supportive fans and friends for coming and supporting us and our music. The fans are very sporting, very loving and very dedicated and they come here almost every Tuesday and Saturday when we are performing."
On where the band sees themselves in the future and what they are aiming for after this, she said: "We want to create our own original tracks, our own kind of music, increase our fans base and aim to be one of the best bands in Kuala Lumpur."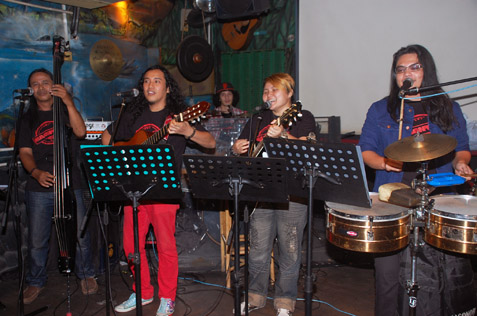 So why Magnifico and not another name?
"We want a name which means something to us. We want to make ourselves different and look unique because we are magnificent in playing all kinds of music and we sing in various languages for our multi-racial crowd," said Mira.
One dedicated fan, Aninda Kabir @ Avik, 40, a senior multimedia designer and photographer with the National Cancer Council (Makna) said he had been following the band for a year.
He said: "Ever since they were born I was here with them. I have been following them for a year. The songs they play are wonderful, superb! I really like their music and style. I think they play really great music, very friendly and they are going to go far.
"I only come here when they play on Tuesday and Saturday, otherwise I won't come here. I only come here just for this band."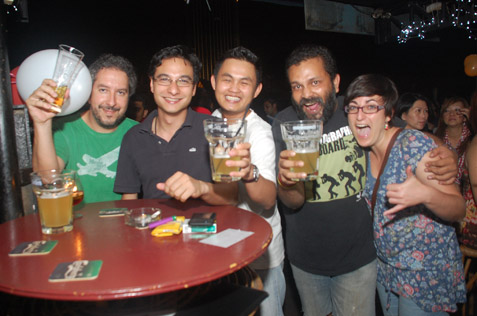 Yesodhra said she spent hours each week coping with the huge range of things that happen behind the scenes so that the band is able to concentrate strictly on music and perfecting their craft.
"They put on a really sparkling show because they all work together to make it happen. It's been a lot of hard work and practice every week for a year now. Some of their fans have turned into really good friends too. It's wonderful", she said.
Often we find people who stay firmly within their comfort zone and do not want to challenge themselves. But this was not the case with band members Mira Mohd Hatta, Oyent Hazryl and Che Ai Ackiyak, who after playing together in the same band Acoustica for a decade, decided it was time for a change.
The trio challenged themselves by coming out from their comfort zone and dared to try something new.
They had the desire to push the boundaries of what they were doing and to reach inside themselves to draw on their talents to create something better. And so together with Jay Cugat and Agus Rafiz, they formed Magnifico.
At the beginning, everything was a challenge to the band. However, over the one year, while many other new bands would have fall through the cracks, they survived with their staying power and support from everyone.
Mira and Oyent have always been back-lines but were now pushed forward to the front-lines.
"I used to hide at the back with my percussion and wear a cap to avoid making eye contact with anyone as I was very shy. I am grateful to Tony Siew, owner of Waikiki Bar, who spent hours in a week coaching me and giving me encouragement to come out of my shell" said Oyent Hazryl, who's now well known for his spontaneous antics and high energy on stage.
Magnifico has a strong visual element when they perform, fans and friends go  to 'see' them as well as 'listen' to them. What pulls in the crowd is their ability to entertain because their performance is really 45 minutes of working their audience in each set.
Even when not singing, lead guitarist Jay Cugat, son of Malaysia's first Latin musician, the late Zainal Cugat and even upright double bassist Che Ai would dance on stage. The drummer Agus Rafiz puts on his own show at the back of the stage.