Tanjung Piai Ramsar site threatened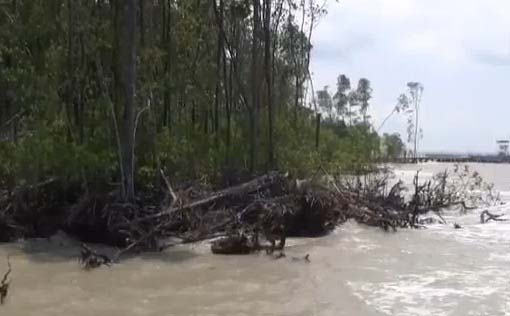 Tanjung Piai National Park is located in the district of Pontian, Johor. It is situated on the southernmost tip of continental Asia, and was gazetted as a Ramsar site in February 2003.
Tanjung Piai covers an area of over 926 hectares, of which 526 hectares comprise of coastal mangroves while the rest are intertidal mudflats. The mangrove forests survive on shores bordering calm seas.
The National Park is a haven for a diverse species of flora and fauna, including unique to mangrove areas such as mangrove crabs, mudskippers and crab-eating macaques. It is also a hot sport for birdwatchers to visit during the migratory season which falls around September and March.
However, recent and constant oil spillage, however small, has affected creatures of the mudflats. Most of them were killed by the oil spillage; while other surviving species were forced to move to inland mangroves and safer grounds.
This in turn affected the migratory birds; fewer birds call at the Tanjung Piai mudflats as the lack of food does not attract them any more.
More than 300 vessels pass by the area on a daily basis, since the Port of Tanjung Pelepas (PTP) started its operation in 2000. The increase of sea traffic along the Straits of Malacca has caused considerable environmental damage.
The increased of shipping activities has polluted Tanjung Piai with oil spillages and sludge. It has also caused large waves and rough sea which caused erosion of the land mass and the destruction to the mangrove forests.
The state's coastline is eroding away as studies showed that 50% of the state 492km coastline is experiencing soil erosion.
The problem of oil or sludge washing up and destroying the Tanjung Piai National Park was a long-standing issue and it will continue to destroy the beautiful mangrove forests. The soil at several areas has been rendered infertile and the mangrove trees can no longer help mitigate erosion.
The government had tried many stopgap measures, such as the settling up of geotubes and sandbags, the building of retaining walls and the replanting of 10,000 mangroves trees, but it has all but failed.
Video by: Christine Leong, Citizen Journalists Malaysia