Two killed, three seriously injured in 10-vehicle crash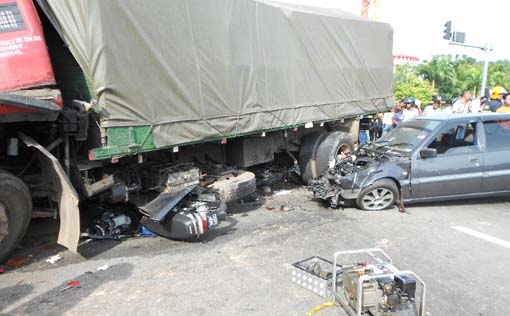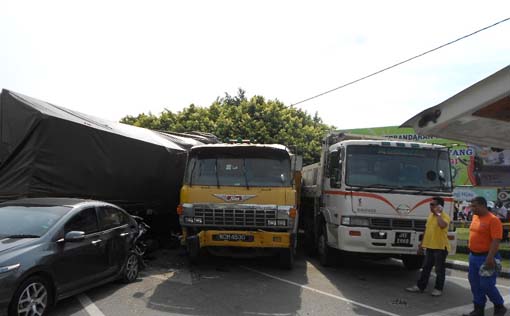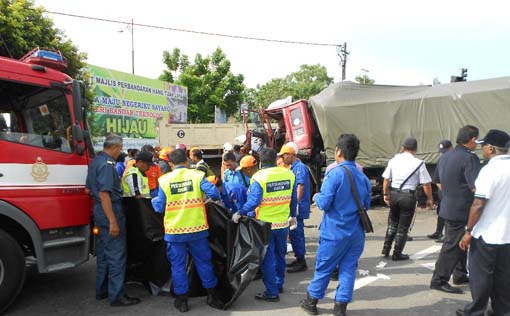 Two people died while three others sustained serious injuries in a road accident at Seri Negeri Interchange, along Ayer Keroh yesterday.
At the 3.20pm incident, the fatal accident involved three lorries, three cars and four motorcycles caused massive traffic hold up to 9.00pm.
The News Straits Times reported that the accident killed lorry driver, R. Chandran, 47 and motorcyclist R. Mukeudan @ Mukundan, 62.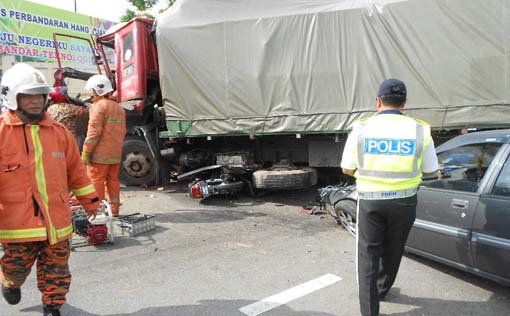 According to Citizen Journalists Malaysia (CJMY) at the scene of the accident, an empty 6 wheeler lorry and a 10 wheeler lorry loaded with earth was hit by a 12 wheeler laden with chicken feed.
The lorry driven by Chandran was believed to have lost control while coming down the Sri Negeri road causing the 10 vehicle pile-up.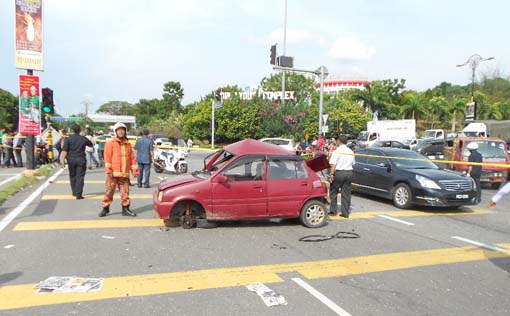 Accordingly to Abdullah Salleh who works for Majlis Bandaraya Melaka Bersejarah (MBMB) in the complex of Kota Cemerlang claims to have witnessed the accident said that he saw the 12 wheeler losing control of his vehicle while being unable to stop at the junction, took a left turn only to crash into the vehicles waiting at the traffic junction.
When contacted by CJMY, the traffic department of Melaka Tengah confirmed that two people perished in this mishap.