Proud day at Raffles College convocation and awards 2012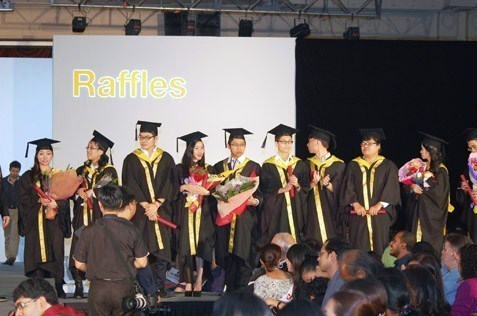 A total of 18 Bachelor Degree, 79 Advanced Diploma and 6 Specialist Diploma graduates of Raffles College of Higher Education, Kuala Lumpur received their scrolls during a convocation and awards ceremony held at Mayang Sari ballroom, JW Marriott Hotel, Kuala Lumpur on September 20, 2012.
Graduates from six faculties, namely, fashion design, fashion marketing and management, jewellery design, visual communication, interactive media design and interior design showcased their talent and abilities in their graduation projects at the WANTED! – 28th Graduation Exhibition and Fashion Show.
The projects were to fulfill the graduation requirements and signified the evolutionary success of each graduate as they matured into creative, multi-faceted designers and entrepreneurs. Achievement awards were given out for the best project effort they put in.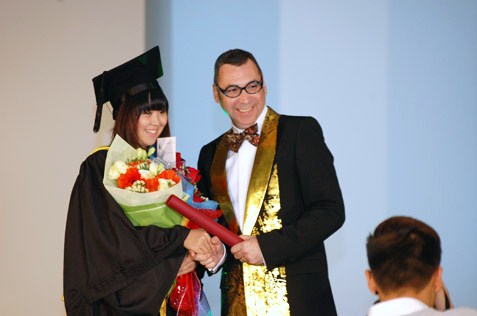 So, it was a treasured moment and a great honour for the graduates when they went on stage to accept their scrolls for which they had worked so hard for.
Raffles College of Higher Education Singapore associate professor and principal Guiseppe Spinelli conferred the academic degrees and advanced/specialist diplomas to the graduates, cheered on by their proud parents, relatives, friends, faculty staff and guests.
Scholarships worth more than RM50,000 were also presented to the most deserving graduates for academic achievements and best collection for fashion design.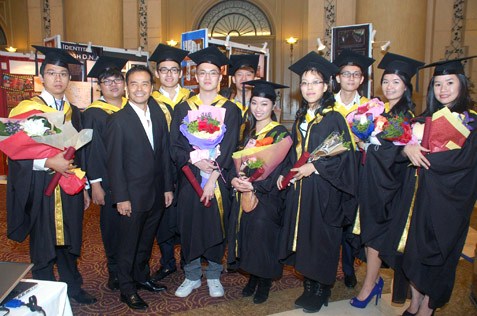 Also present at the show was college director David Yee who presented tokens of appreciation to sponsors and competition judges at the end of the fashion show.
For the fashion graduate runway show, 18 young fashion designers showcased their amazing collections, each with their own personal distinct style. Models graced the catwalk with eye-catching creations attracting loud applause and cheer from the audience.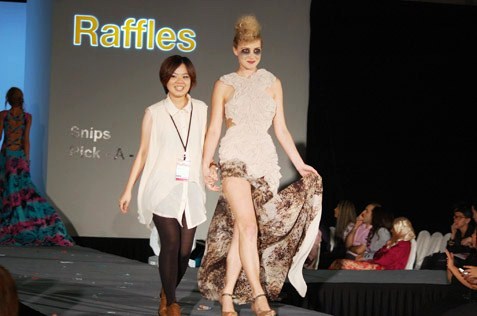 The Best Collection For Fashion Design award went to Fong May Ee, 21, for her collections themed "In Surviving"
"I was inspired by the snake's movement and was truly amazed by one of the photos from my mood board which shows a snake sidewinding on desert. It shows how the snakes can survive toughly without limbs and even afraid by other animals," said May Ee.
"I thank my parents for supporting me and believing in what I am doing. The greatest part of winning is I really show them what I can do and to be proud of me. I will go to find a job after my graduation and gain experience first or join competitions to explore more. If it's possible, I hope I can continue my study and will not be a burden to my father anymore.
"The minute you think of giving up, think of the reason why you held on so long."
The criteria used by the competition judges who included Malaysian fashion designers Joe Chia and Victor Goh, were story board, creativity and design interpretation (20%), workmanship of garments (20%), commercial viability (10%), hanger appeal (10%), colour, fabrics and accessories coordination (10%) and catwalk overall presentation (30%).
Joe Chia won the Best Collection award for his graduation show in 2008 at Raffles Design Institute and participated in past Malaysia International Fashion Week (MIFW). Victor Goh is a renowned fashion stylist who is one of most sought after for TV commercials.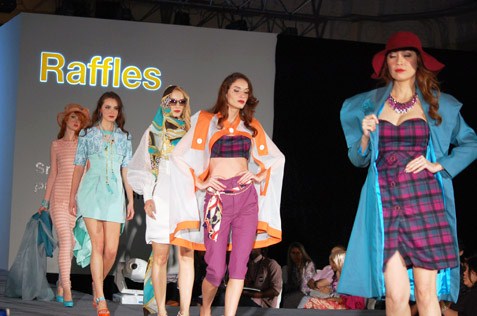 Here is the list of the awards winners for the show:-
Bachelor of Design-Interior Design
Best Project Award: Tian Wen Kai
Bachelor of Design -Graphic Design
Best Project Award: Lew Pau Yee
Bachelor of Design-Multimedia Design
Best Project Award: Wenny Gunawan
Advanced Diploma in Fashion Design
Top Student Award for Academic Achievement: Fong May Ee
Best Collection for Fashion Design:
Winner : Fong May Ee
1st Runner-Up: Kathryn Rao
2nd Runner-Up: So Bu Yeow (Bubu)
Advanced Diploma in Jewellery Design
Best Collection: Nini Chan
Advanced Diploma in Visual Communication
Top Student Award for Academic Achievement: Aminath Shareehan Ibrahim
Best Display: Aminath Shareehan Ibrahim
Advanced Diploma in Interactive Media Design
Top Student Award for Academic Achievement: Elaine Koh
Best Display: Gerry William
Advanced Diploma in Interior Design
Top Student Award for Academic Achievement: Lim Yuen Khong
Best Stage & Exhibition Design: Chin Hao Kiat Kenneth
Advanced Diploma in Fashion Marketing & Management
Top Student Award for Academic Achievement: Sik Weng Fong
Best Group Project: Fashioncents (Ng You Peng, Siah Yeong Hau, Tay Yi Ling, Amanda Chong Shi Huei, Wong Hui Yi, Hui Lee Wei)