Thai religious amulets in great demand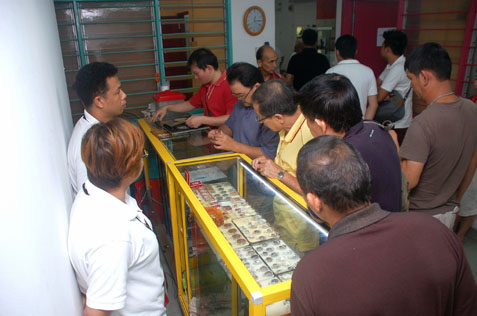 Following the success of its first exhibition in June this year, the second Luang Phor Khun amulet exhibition was back by popular demand and held this time with an open invitation to visitors and neigbourhood residents to both its blood donation drive and organ pledge campaign.
Main organiser Saan Yak Nak Meditation Centre hosted the 3-day exhibition from October 12-14 at its premises in Section 20, Taman Paramount, Petaling Jaya.
The exhibition saw visitors crowd around glass cases displaying various exhibits of original amulets, old and current, blessed by 89-year-old Luang Phor Khun, currently a vastly popular monk living in Thailand.
"We educate the public by creating awareness about these Thai holy amulets so that they are alert and careful when buying amulets and not ended up buying fake or duplicate ones which have no effect and value," said Jacck Than, founder of Saan Yak Nak Meditation Centre.
"I read reports in the newspapers about the low blood supply in hospitals and it struck me as a chance to do something together."
Than soon got in touch with Petaling Jaya Utara (PJU) Community Service Centre chairman Dr Wong Sai Hou, Voice of Women president Chew Hoong Ling and the National Blood Bank; and together they got the project kicked-off.
"People come to view the exhibit, get blessed by monk and donate blood and in return they get good karma and go back a better person. We believe that if you do good deeds, you will get good karma," added Than.
Aside from the exhibition, a high-ranking monk, Chau Khun Chien from Wat Prasart, Bangkok conducted blessing using the "connect and share" blessings method for his followers.
At the end of the day, more than 40 bags in 350ml and 450ml of blood were collected from donors by the National Blood Bank staff at the makeshift blood donation site on the centre's ground floor.
The organ donation awareness campaign by Voice of Women also succeeded in getting a good number of visitors who pledged their organs after their death.
"Our centre is new as it opened on Wesak Day (May 5) this year and since then we have been very successful in getting people to come to our centre because they supported us," added Than who has been collecting Luang Phor Khun amulets for about 20 years.
The amulets were made from various materials such as metals, clay and herbs compressed together.
While the prized collections were not for sale, Than had also put up some blessed amulets for sale and the price value varied depending on popularity, style, age, materials and other factors.
Those blessed by Luang Phor Khun personally can be very costly as they are in high demand.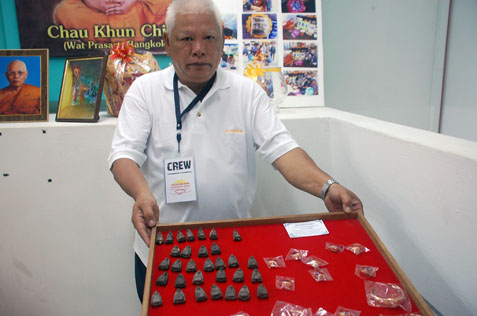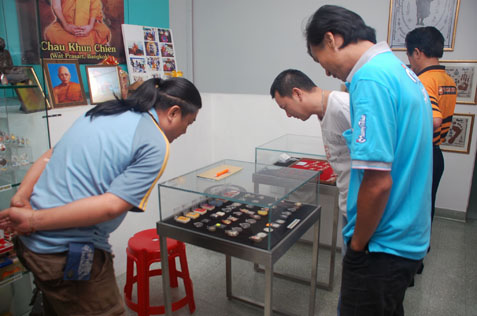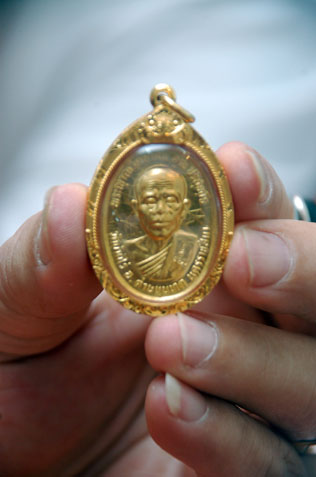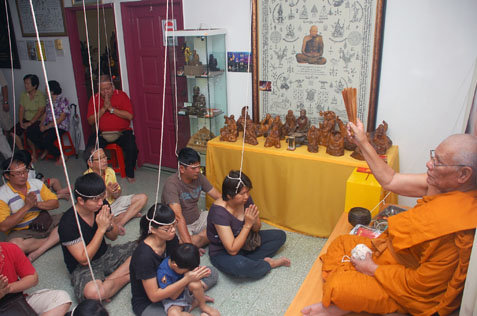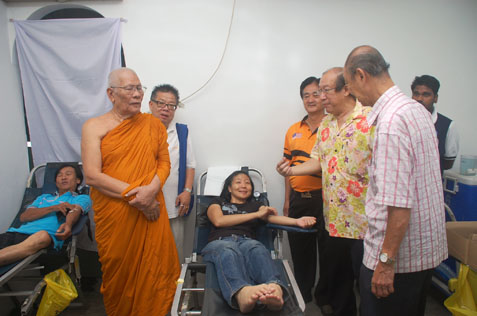 Than said his interest in amulet began during the financial crisis of 1993-94.
"I was feeling very depressed then because  I was badly affected by falling share prices. I was disoriented and I left my job.
"I had heard about the famous and powerful monk Luang Phor Khun so I went to Thailand to seek his blessing personally. I came back and luck just changed. It was amazing. Opportunities just fell on my lap."
From then on Than began collecting his amulets. Today he has an almost complete collection of about 400 pieces of rare, old and new Luang Phor Khun amulets.
"The prices of some of these amulets can be very high and because it's our hard earned money so I went deeper into finding out more about amulets.
"I went to temples all over Malaysia, Thailand, Myanmar to learn more about amulets from experts.
"I have seen a lot of people who were conned by amulet sellers who sell duplicate amulets which are wrong. I have even been conned personally by them before."
Than said he had personally come across amulet dealers who hard sell amulets by saying: "You wear this amulet, you can strike lottery, and if you gamble you will win or you can fight like Bruce Lee, you are invincible."
"It is wrong to tell people that. They had been oversold. If things did not work out, then they said it is not good."
Than said he also collects amulets of other high ranking monks but his mentor and inspiration is still Luang Phor Khun who lived in Korat, a 3-hour drive north-east of Bangkok.
Luang Phor Khun became famous in 1993 when a woman pulled out under the rubble of a collapsed hotel building survived miraculously.
At the time of her rescue, she was wearing an amulet bearing the image of Luang Phor Khun.
"He had done a lot of charity work in his life. The whole villages in Korat were well developed. They have schools, colleges and hospitals because of him. Even the neighbouring villages were also developed because of him. People donated generously to him and he used the money to build schools and colleges.
"Wearing a Luang Phor Kung amulet give us the self-confidence and to do good deeds. Whenever I do something, I think of him."
Than explained the logic behind wearing Luang Phor Khun amulet.
"I put it in a logical way. When you feel that he helps you, you have confidence and when you have confidence, you are already 50% ahead of people so this is good charisma and you feel good and good things will come your way."
"When you wear Luang Phor Khun amulet, the most important is to have good faith that 'he is with me, I should be good. Good things will come.' I have observed that those who wear Luang Phor Khun amulets, their characters have changed for the better."