PR unveils 'rakyat comes first' memorandum
Pakatan Rakyat Negeri Sembilan unveiled its Memorandum of Understanding between its 3 component parties,  namely Parti Keadilan Rakyat (PKR), Parti Islam SeMalaysia (PAS) and Democratic Action Party (DAP), in a bid to wrest the state of Negeri Sembilan from the incumbent Barisan National Government in the upcoming General Elections (PRU13).
The Pakatan Rakyat won a total of 15 DUN seats in Negeri Sembilan in the PRU12 held in 2008, with DAP capturing 10 seats, PAS 1 seat and PKR 4 seats.
The Pakatan Rakyat only need to win an additional of 4 more seats to form the next state government. There are a total of 36 state seats in Negeri Sembilan.
As such, one can expect the PRU13 to be a very hotly contested one in the southern gateway state of Negeri Sembilan.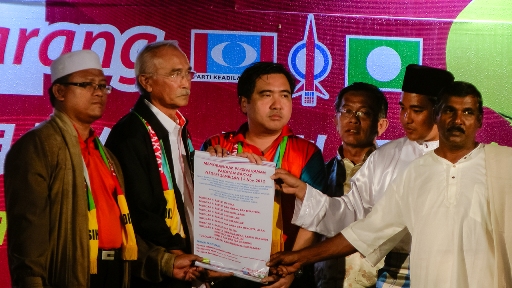 This nine point memorandum ranks the rakyat to be  of utmost importance in any consideration and implementation of  state administrative policies of the Pakatan Government should they be voted into power in Negeri Sembilan  in the PRU13 to  replace the incumbent Barisan Nasional state government.