1,200 eat into Malaysian Book of Records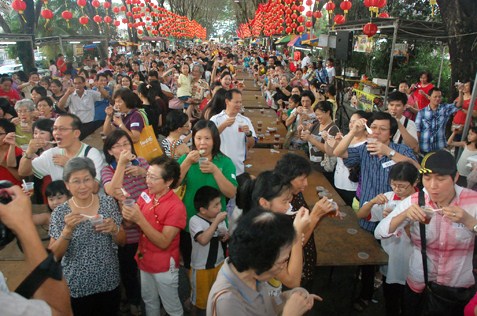 A total of 1,200 participants came together for the most number of people eating Tang Yuan, a Chinese dessert of glutinous rice balls served in a sweet broth, in front of Buddhist Chempaka Lodge at Jalan SS23/25 Taman SEA in Petaling Jaya on December 15, 2012.
With this feat, Buddhist Chempaka Lodge (CBL), the event organiser, has entered into the Malaysia Book of Records for the largest participation in a Tang Yuan eating session.
"We want to bring back this Chinese culture to the younger generation to treasure and keep their heritage alive," organising chairperson of the Tang Yuan Festival said Tan Kok Ing.
"The older generation celebrates the Tang Yuan Festival by getting together and eating Tang Yuan which symbolises reunion and completeness.
"But the younger generation does not value this festival and tends to forget about these values so we want to bring back and let them know.
"When we eat this tang yuan, we always tell ourselves we are one year older.
"We never say, "new year one year older" but this is the time when we say we are "one year older". In China, this is also the start of the winter season," he said.
Tan who is also the CBL deputy president said this was the third year they had organised the Tang Yuan Festival and the biggest this year with the tang yuan eating session for Malaysia Book of Records as the previous two years were done on smaller scale.
"We are doing it in a big way this year and the response to this record feat is very good. My congratulations to all the participants and I hope and wish we will break new record with much bigger participation next year."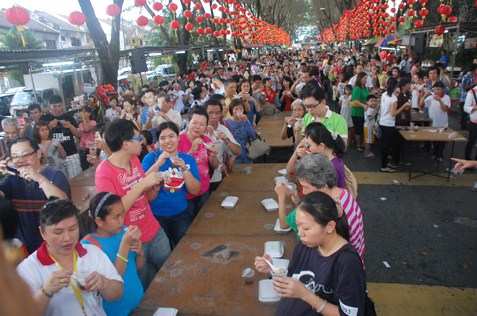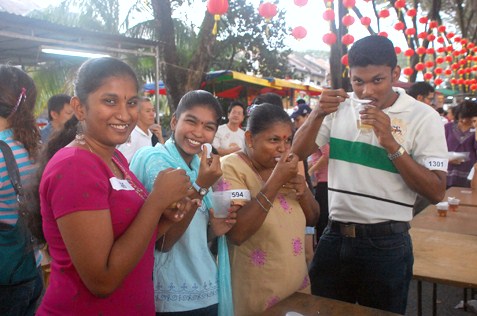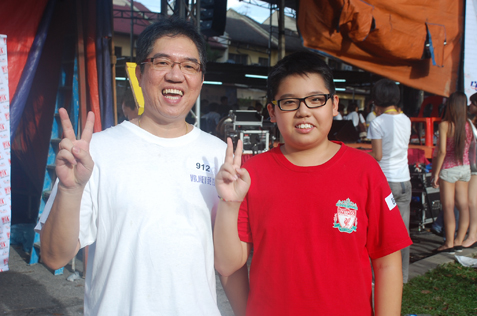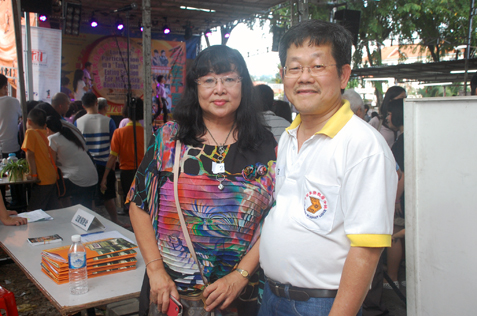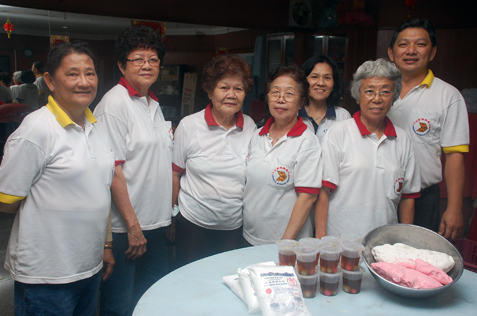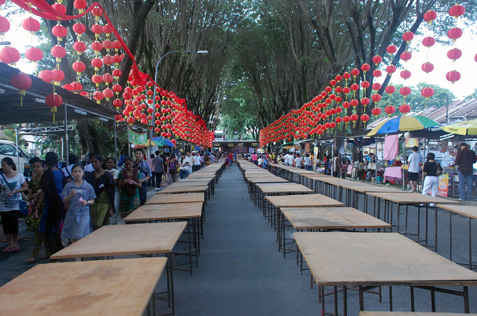 Deputy finance minister Dato' Donald Lim officially launch the event.
Petaling Jaya Utara Community Service Centre chairman Dato' Dr Wong Sai Hou said: "Going on the record, no individual or organisation has ever used a Chinese festival to go for a Malaysia Guinness record, especially so to celebrate winter solstice or Tang Yuan Festival where the eating of glutinous rice balls in sweeten soup is a tradition.
"The Chempaka Buddhist Lodge did it in a very simple manner – register, get ready and eat! The final figure was 1,200 people taking part and for a very good cause by fostering joy and friendship."
Approximately 10 kg of glutinous rice flour, 20 kg of ginger and 20 kg of sugar were cooked in five hours to accomplish this record.
Madam Liew, a volunteer in the Ladies Section of CBL said she and about 30 volunteers took two days to prepare the food that was planned for the feat.
Besides the tang yuan eating session, other activities such as a Tang Yuan eating contest to eat as much of tang yuan in two minutes, wushu performance, children colouring contest, traditional Chinese folk art, magic show, food showcase and stage performance by singers from AiFM radio station.
There were also lucky draws for participants with a iPad mini, a LED television, a refrigerator and 53 other prizes up for grabs.
The event also witnessed other races and religious faiths participating in harmony.
Among them were Vimal, his mother Seesaleeya and two sisters Eliza and Teresa who said they came in the true spirit of 1Malaysia and were excited to be part of the 1,200 people that made it into the Malaysia Book of Records for the largest tang yuan eating session.
The Tang Yuan Festival or also known as Dong Zhi Festival or Winter Solstice Festival is one of the important festivals celebrated by the Chinese community. The other major festival is the Chinese New Year.
This year the Tang Yuan Festival falls on Friday, 21 December 2012. Traditionally the festival celebrates the arrival of winter by eating tang yuan and become one year older.