Christmas brings CSR to Penang's Lighthouse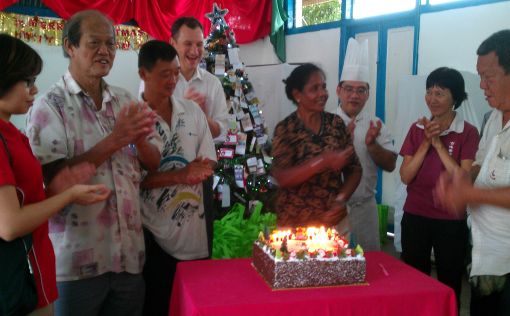 Festive cheer once again filled the premise of the Lighthouse Drop-in Centre, when the Shangri-La Group of Hotels in Penang hosted a Christmas dinner for the 150 Lighthouse clients on December 13, 2012.
Lighthouse is a place of hope catering for the homeless and the urban poor.
It is run by the social arm of the Catholic Church in Penang, under the Penang Office for Human Development.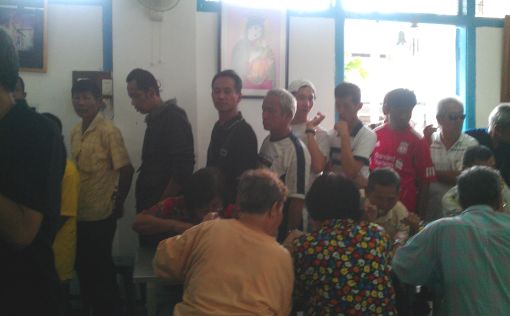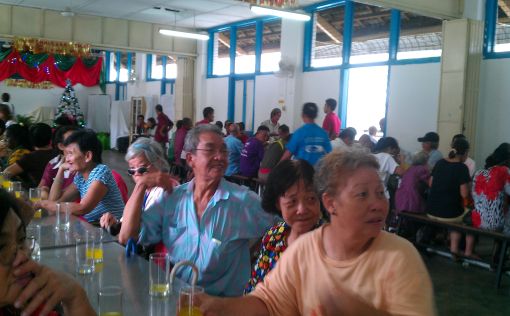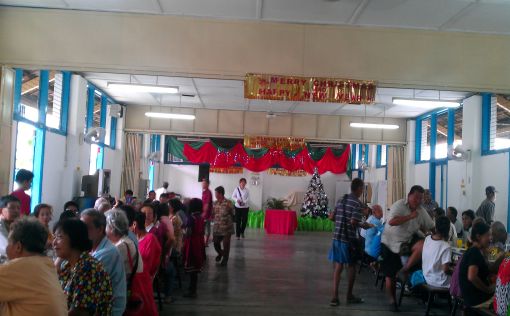 The Shangri-la Group of Hotels consisted of Rasa Sayang Resort and Spa, Golden Sands Resort and Traders Hotel.
Around 20 staff from these 3 hotels were on hand to help, serve and mingle with the clients.
Communications manager of Traders Hotel, Anna Yoon,  started off with a short introduction, followed by a speech by the general manager of Traders Hotel, Markus Christ, .
Before dinner began, there was a cake-cutting ceremony.
The 5kg chocolate cake, specially baked by the chef from Traders Hotel, was for a dual purpose – Christmas and birthdays in December.
Clients whose birthdays were in December were called up to do the cake cutting and blowing of candles.
Food was then served by the staff of Shangri-La group of hotels.
General Manager of Traders Hotel Markus Christ too join in to serve the clients.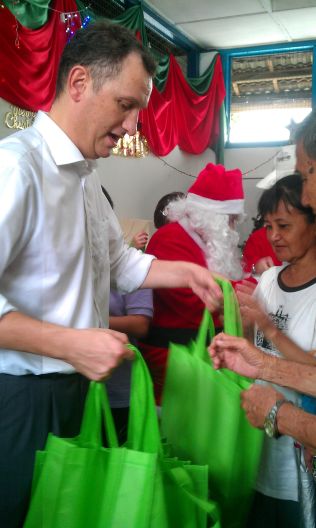 Seen dropping in too was  the Director of Communications of Rasa Sayang Resort and Spa, Suleiman Tunku Abdul Rahman,
This annual Christmas Cheer for Lighthouse is part of the Shangri-La Group of Hotels' Corporate Social Responsibility's activity.
They had committed themselves to sponsoring meals once a month for the Lighthouse.
"Christmas is a time of giving and caring, of giving back to the community.
"During this season, we want to demonstrate our gratitude of being a part of the Penang community by sharing a festive meal with everyone." said Corporate Social Responsibility executive of Rasa Sayang Resort and Spa, Amelia Lim.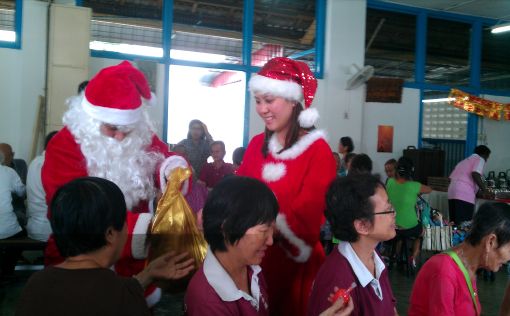 Santa Claus and Santa Rina dropped in, after the clients had finished their meal, and distributed candies.
When it was time for the clients to leave, they each received a goody bag which consists of cereal, boxed drinks and toiletries.
Related stories: 
Penang Lighthouse lights up for Christmas