Yuletide cheer for the Myanmarese migrants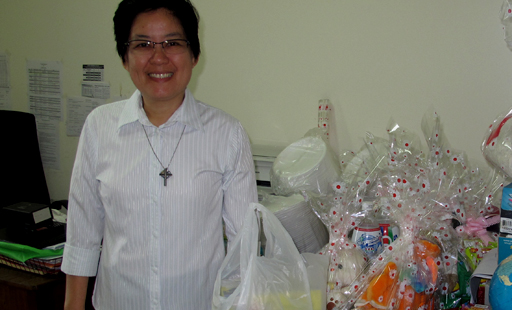 A group of good Samaritans from Sunway College, Johor Bahru has decided to chip in to buy food, which will be distributed to the the less privileged members of migrant community, instead of buying gifts to exchange this Christmas.
Good Shephard nun, Sister Angeline Lau said that the migrant population some time forced to leave their home countries due to family survival.
" Some are forced to flee because of violence, persecution, natural disaster or intense economic privation. Most migrate in search of a better life and others, as part of a family survival strategy," said Angeline who also organizes activities  to take care of the migrants' spiritual, social (including psychological and emotional care) physical and medical needs.
According to the KL office of the United Nations High Commissioner for Refugees (UNHCR), as of May this year, there are 85,000 Myanmarese registered with them. There are an estimated 10,000 who have yet to be registered.
Furthermore, there are 7,000 non-Myanmarese groups consisting of Sri Lankan, Somali, Afghan and Palestinian.
Those who would like to donate cash or kind can drop her a line at her email address [email protected]