Police engage JB community to battle crime
Johor  police chief Mohd Mokhtar Hj Mohd Shariff held a dialogue session with 250 Johor community representatives at Hotel Paragon yesterday.
During the press conference, Mokhtar emphasised that that the police belongs to the public and that the police force plans to engage closely with the public in order to 'win their hearts' and for the public to be aware of measures taken to reduce crime rates in the state. 
He said "we accept the views of the people because, the police belongs to the people and it is our desire to move forward".
He went on to assure all present that "the public should be free to criticise the police and point the inefficiencies of the force."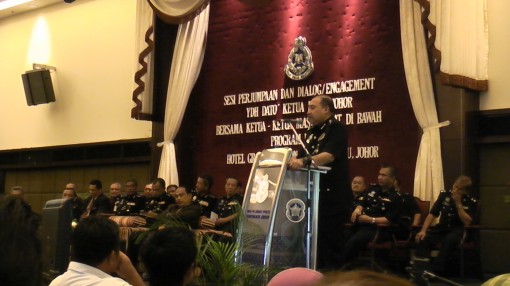 Recounting the achievements made by the police in 2012, Mokhtar assured the public that crime rates have decreed steadily for five consecutive years.
Explaining the 3E policy now practiced by the police under the Bidang Keberhasilan Utama Negara (NKRA), Mohtar said that "Explain, Effective Engagement will be the priority of the police."
Video produced by Goh Siew Mei and Fung Lee Jean, CJMY.