Police report filed against deputy minister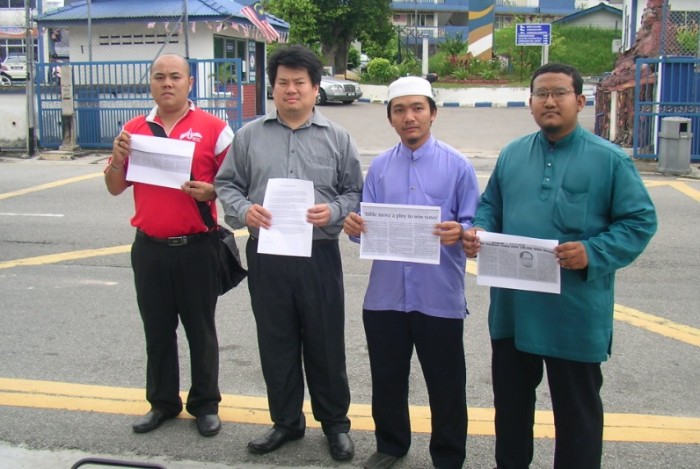 A police report was made by Damian Yeo Shen Li who is a committee member of Melaka DAPSY at the Bandar Kaba police station on January 9, 2013 regarding the false report made by Deputy Education Minister Mohd Puad Zakarshi in the Utusan Malaysia, Berita Harian,and the New Straits Times recently.
The papers carried the news that the  opposition  is planning to print at least 100,000 copies of the Bible and will be distributing it for free in several states, including Kedah and Kelantan.
Damian later gave a press statement at 2.10pm in front of the police station .
Together with him were his fellow committee member David Wong Kim Yong, the Malacca PAS exco member Sobri Hashim and Kota Melaka PAS Youth exco member Khairul Anam Razali.
He said, 'Today's report is basically to lodge a report against Mohd Puad Zarkashi on his slanderous statement  which relates to a plan by DAP to distribute 100,000 bibles  in various states, namely the Malay majority areas like Kedah, Kelantan and also in Selangor and Penang.'
'There is no such plan of  DAP distributing ,or having the intention to distribute the Bibles.'
He said that it is a total lie, that they are planning to print and no meeting  relating to this particular act.
He also said that is only a ploy to win votes.
This slanderous statement is causing disunity and discomfort among the religions especially the Malay Muslim community .
PAS also supported this move by saying that it is a blatant lie .
Both PAS and DAP are making the police report.
They said that they were asked to take action and force this the deputy minister to either apologise or allow the police to investigate this statement.