Photoblog: Colours of Thaipusam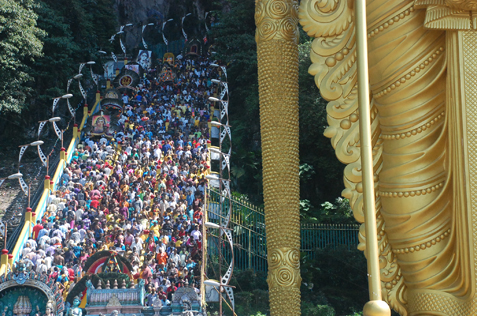 Hundreds of thousands of Hindu pilgrims thronged the Sri Subramanian temple in Batu Caves to fulfil their spiritual obligations during Thaipusam celebration on January 27, 2013.
The religious festival is celebrated as a thanksgiving to the Hindu deity Lord Murugan on the full moon in the Tamil month of Thai (January or February).
A cleansing ritual is carried first by devotees who gathered at the riverside of the nearby Sungai Batu before they make their way barefoot up the steep 272-steps that lead to the cave temple.
Various acts of devotion were carried out such as the carrying of kavadi and pal kudam (milk pot) on their heads.
For many devotees who carried out sacrificial acts for prayers answered or to fulfill vows made to Lord Murugan, they had their bodies attached with hooks and needles or their cheeks and tongues pierced with skewers.
Kavadi-bearers had to observe a strict abstinence and fasting for a minimum of 40 days, with one vegetarian meal a day in order to undertake the pilgrimage to the temple.
The colourful procession of kavadi-bearers were accompanied by the loud chanting of "Vel Vel" and rhythmic drum beats of urumee melam (musical troupes) adding colours, smells and sounds to the festivities.