Fire forces family from home in Malacca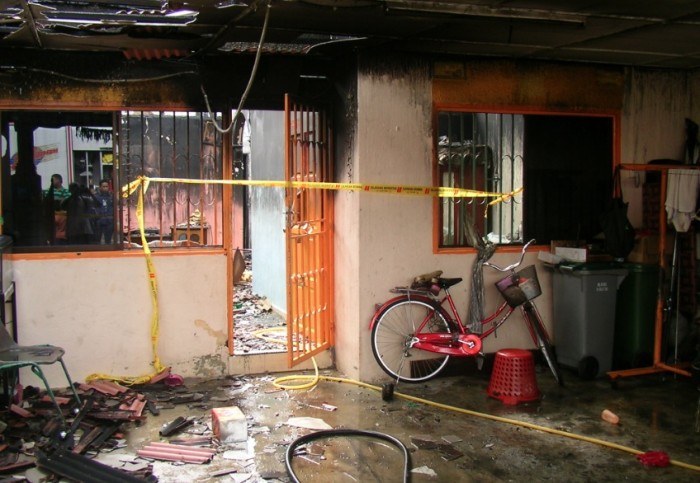 Three terrace houses at Taman Melaka Baru, Batu Berendam, Melaka were razed as a fire broke out at 2.10pm yesterday.
The fire started in the house of Velly Veelasamy and Mariamal Gunasegaran who were at work.
The children were home alone and the fire claimed all their belongings as it consumed the entire house..
The family believes that the fire started in the prayer room.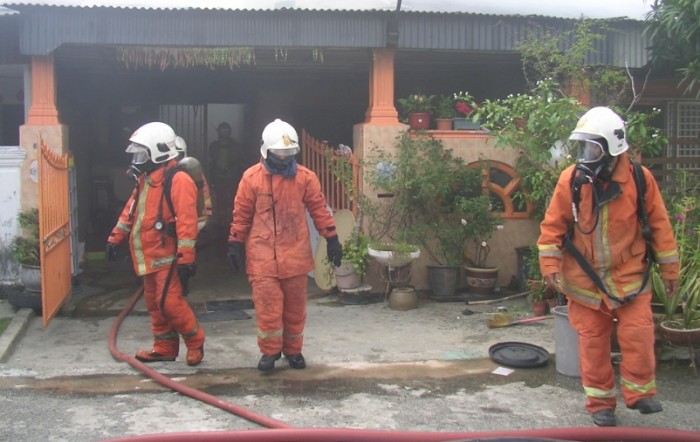 The Fire department arrived within a couple of minutes of the emergency call made and took an hour to put out the fire. They initially had trouble locating the fire hydrant.
According to Velly's eldest daughter, Paramewary, 22 who is invalid and wheel-chair bound, she heard her younger brother Saruvin, 7 shouting that there was a fire.
She ordered Saruvin to fetch water to try and douse the fire.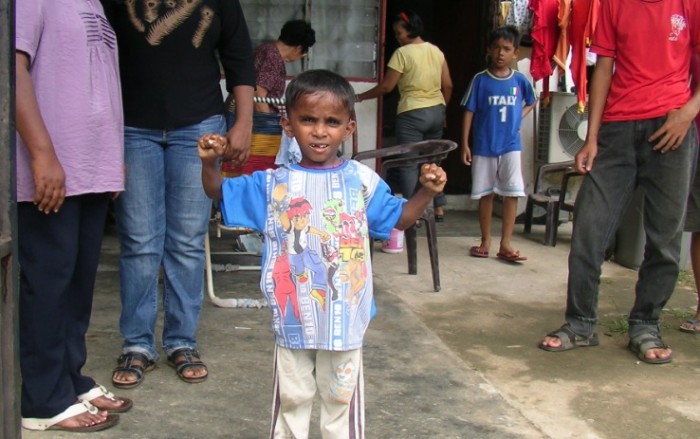 Unfortunately the fire had raged across the room and they began yelling for help.
When neighbour Yayah Kursyah heard the screams of the children, she did not immediately respond, as the ruckus by the children is part of their daily ritual.
"As the pleas began to escalate and appeared relentless, I decided to look out of the window and ran as soon as I saw heavy smoke coming from the burning house," she said.
Knowing that Peramewary was an invalid, Yayah ran into the house to whisk the children out despite two restless dogs which we're barking in panic.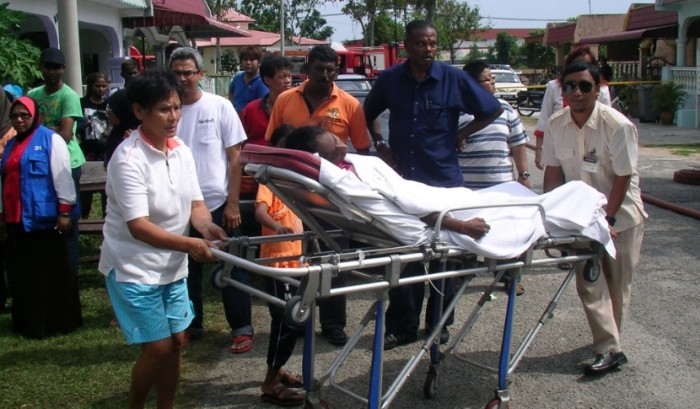 Two other neighbors, Ustaz Johorai Salleh and Hj Abdul Rahim Osman promptly responded to the cries for help.
Paremeswary who was in shock refused to leave the premises but Yayah saw the urgency of the situation and dragged the children out of the burning home to safety.
As the fire began to spread to the neighbouring house and Yayah said remembered that Chan Wah Eng, 84 was also an invalid and alone while her children were away at work.
Together with Johari and Abdul Rahim, Yayah helped carry Chan to safety.
The other affected house-owner Nyapon Osman, 63, was baby-sitting 3 grand-children.
She said that she was told by her grandson that he could smell smoke.
"I went to the kitchen and saw smoke coming out of the roof – I immediately grabbed my grandchildren and we ran out of the house," she said.
MCA Melaka Youth vice chief Yong Fun Jua and his group were there to assist the fire victims.
They took time off from the BRIM2 event  to assist and donated a token sum to Vellu and Goh to help alleviate their loss.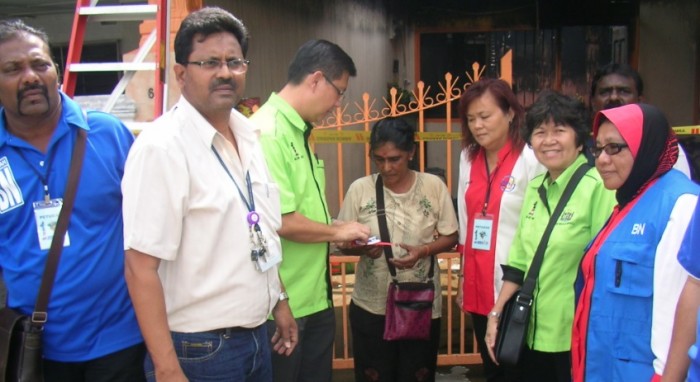 Adun Ayer Keroh Khoo Poay Tiong too was there to see the fire victims.
At about 9.30pm Melaka Chief Minister Ali Rustam visited the fire victims where he promised to get their houses repaired immediately.
He arranged for Vellu's family to be placed in a temporary shelter at Balai Raya Taman Melaka Baru.