Mixed reaction to veneration of ancestors in churches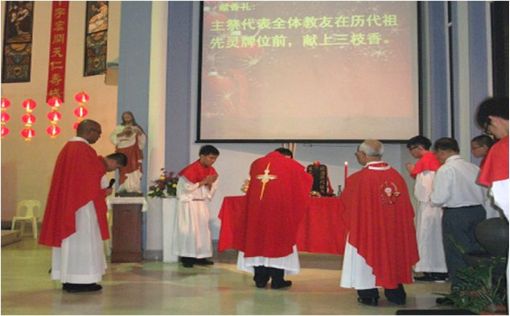 Every year, during the Lunar New Year eve, Masses are held  in most Catholic churches in Malaysia and in some churches the Rite of Veneration of Ancestors are practised.
Some of the churches that hold the rite are Our Lady of Sorrows Penang, St Anne Bukit Mertajam, St Michael Ipoh and Church of the Visitation Seremban,
This rite had been a source of controversy  as there are differing views on whether it should be practised.
Previously, the rite was conducted after the communion prayer but due to more people showing a restlessness regarding the rites being part of the liturgy, now, it is conducted after the final blessing and dismissal.
Traditionally, an ancestral table is set up away from the altar, where an 'Ancestral Tablet' is placed.
Joss sticks are then lit up by the altar servers and handed over to the celebrants.
On behalf of the congregation, the celebrant raises the joss sticks with both hands to the height of his forehead, as a sign of honoring the ancestors.
The congregation then bows three times towards the ancestral tablet.
Symbolism
In some churches offering of gifts bears symbolic meaning.
According to the Rite of Veneration of Ancestors two baskets of flowers symbolise the love for ancestors, three cups of wine symbolise the remembrance of ancestors, and two trays of fruits symbolise the admiration for ancestors.
Mandarin oranges, a must-have during Lunar New Year, are then blessed and prayed over. The oranges symbolise peace, happiness and prosperity.
After the blessings of the gifts, the congregation are called to kneel and bow three times as a sign of worship and thanksgiving to God and to one another.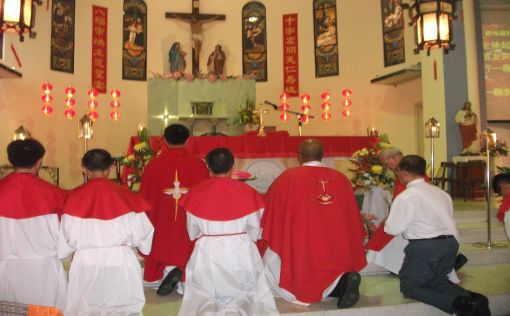 Finally, the congregation would come forward to receive 'Angpow' from the celebrant and blessed oranges from the wardens.
Most churches will end with a lion dance performance and lighting of fire-crackers, followed by a fellowship.
The Rite of Veneration of Ancestors had been approved by Pope Pius XII in 1939.
This 1939 instruction, is known as "Plane compertum est".
It declared that rituals performed on the occasion of funerals or commemoration for the dead are conducted to demonstrate honour and respect to the ancestors.
Citizen Journalists Malaysia (CJMY) approached a few Christians to find out their thoughts on this controversial rite.
It is idol worship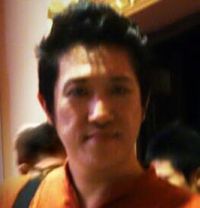 Catholic journalist Francis Chan, 45, said that he did not see any point in staging such a rite because Catholics who are ethnic Chinese in Malaysia do not do such a thing in the first place.
"It seems to be something foreign to them and I too, do not understand the meaning of these rites.
"The Church should support people's faith by doing things that have meaning for them, and not do things for the sake of a show," he said.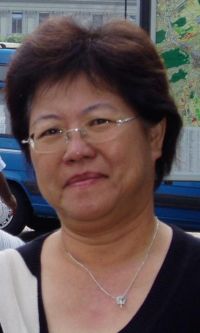 Valerie Mah Angus, a retiree understands the meaning in ancestral veneration but to her, it is a personal affair and should be done at home with the family, and not in church.
"I come from a traditional family who migrated from China.
"Chinese families are very filial to the elders and thus honoring their ancestors is a vital practice.
"When my grandparents passed on, my mom or my sister-in-law took over this duty.
"This practice done in church is meaningless as it is a family-based practice and very personal," she said.
Despite the insistence of the church that the rite is a honouring or veneration of ancestors, Catholic convert Joyce Lee, still looks at the rite as ancestral worship.
"There are Christian ways to honour our ancestors and the departed, which is at Mass when we offer intentions for them," she said.
Lee opined that adding in rituals like ancestral tablet, joss-sticks and the likes can be misunderstood.
Christian pastor Stew Law looks upon the rite as ancestral worship which he claims is a form of idolatry.
"I am quite simply against such rites because any church should be a holy sanctuary of the 'almighty', not a place for the rites of other religion.
"We should only worship God, not ancestors or any other persons, past or present.
"Some may say it is social or cultural, then let it take place in a social or cultural setting, not in a sacred place."
Joss sticks are incense on a stick 
Joseph Ng, 57, is happy to see the rite being performed inside the church after Mass as this shows the Christian Chinese are still preserving their Chinese culture.
"I'm glad to see Chinese culture being preserved by Chinese Christians.
"We only honour our ancestors to show them respect as we do not pray to them.
"Many people don't understand the use of joss sticks.
"They think they are very un-Christian, but the joss sticks are just incense on a stick," he said.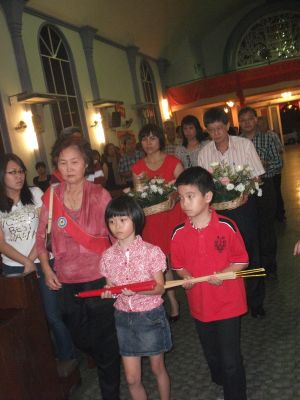 Joseph Chung, in his 60s, agreed that Chinese culture should be preserved and he said, "Chinese New Year is an important festival for us Christian Chinese, thus we attend CNY Mass in church, and we make use of this opportunity to honour our ancestors."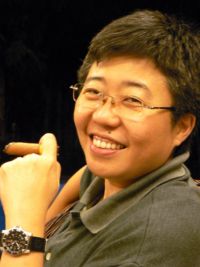 Pat Lu, 52, entrepreneur and co-founder of Malaysian Catholic Christians group on Facebook said that it is more about remembering and honoring her parents as the fifth commandments in the 10-commandments said 'Honor your father and mother'.
"Using joss sticks are merely symbols of respect as in our Chinese tradition and culture," she expressed.
As opposed to what Valerie said that veneration of ancestors is a personal affair, accounts clerk Tessa Loh, 38, said that since they do not practice this at home, she is very pleased that the Church incorporates the rite in the church as this gives her an opportunity to be able to honour her ancestors, together with her own Catholic community.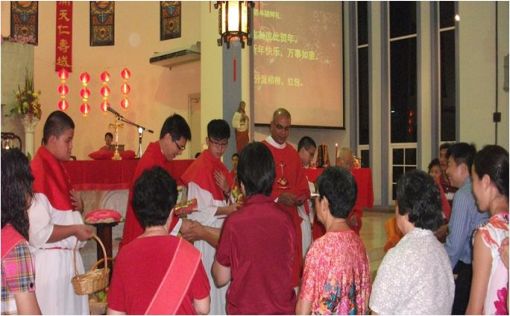 "Although we are Christians, we must never forget we are Chinese first, thus we should not forget our Chinese roots." she said.
"I'm a busy person and I  admit at times there are some important culture and traditions that I did not keep up with, so when this rite was introduced in church, you can imagine how relieved I was."
The controversy on the Rite of Veneration of Ancestors done in church continues.
There seem to be no right or wrong answers but only difference of opinion.
The people, anyway are given the freedom to choose to participate or not in the Rite.
For two differing views on this rite, that have been previously published by a Deacon and Catholic priest.
To bow or not to bow by Deacon Shermen Kuek
To bow or not to bow by Fr Michael Cheah 
To bow or not to bow by Fr Michael Cheah Part 2

Related article:
Photoblog:  Cultural twist to CNY service