Predicament of KL taxi drivers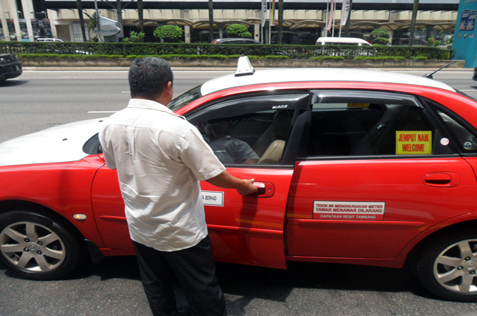 According to a taxi cab industry, there are currently over 4,000 licenced taxi drivers operating in Kuala Lumpur city.
These taxi drivers want to make a living and go out all day and night long to serve the population every day keeping the city alive.

With rising costs especially in these uncertain economic times and the free Go-KL bus shuttle service eating away their earnings, many of the taxi drivers work for long hours with daily earnings just enough to pay for a place to live, installements and daily expenses at the present moment.
This is a story of one such taxi driver plying the city-choked streets to earn a decent living.
Yip Kim Swee, 53, from Kuala Lumpur has been driving taxi in the city for 11 years and works 14 hours a day, sometime more to make ends meet.
"I drive everyday from 8 am to 10 pm, sometime very late before I call it a day," said Yip, who stays with his daughter after his wife died a few years.
"It can be tiring but I will get some rest only when I reach home."
"My earning is not much. If I don't make enough, who will pay for the loan installments, put food on the table and other expenses," he asked.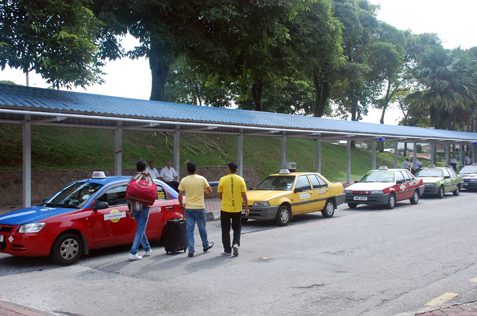 The government grant taxi companies taxi permits so Yip, like most other taxi drivers in the city who do not have individual taxi permit, pay monthly installments for the rental-purchase facility of their taxis and if they defaulted on loans, the taxis would be repossessed.
Yip hope the authorities show more consideration to taxi drivers when issuing a summon as they have to pay hefty fines which can affect their earnings.
"Once I park my taxi on a single yellow line in front of a shopping complex. I reason to the enforcement officer that the road was very spacious and there was not much traffic at that time as it was off peak hours but the enforcement officer would not listen to my plea."
Yip said he has also receive summons to appear at the Land Public Transport Commission (SPAD) office for questions to complaints of overcharging, not stopping when hailed and not using the meters.
This took up much of their time and affected their income.
He also asked that officials in plain clothes and posed as passengers to nap taxi drivers for not using the meters to be more professional in their approach.
"They asked how much is the fare to their destinations before getting on the taxis.
"Shouldn't they just get into the taxi as our taxis use meter?
"This is like tempting us to take the bait. It's unfair to us, " added Yip who requested his face not be photographed.
He agreed that taxi drivers who not use the meters are giving honest taxi drivers a bad name.
One reason for not using the meter, he said, is to cover the return fare when the taxi driver drops off passengers and returns empty.
Another reason is the traffic jam. Although the meters are still running when they are caught in the jam, he said this is usually not enough to cover for lost earnings which they could have earn more if they are moving.
Yip also said he has encountered unscrupulous passengers who opened the door and jump off the taxi without paying the fare.
Did you chase after them?
"It's a waste of time. I consider that a bad day. Lost money can be earned back."
"Once I had a passenger who said he has no money pay the fare so I asked to keep his handphone as a security. He did call me back a few days later to pay me the fare debt and I return his handphone."
On fear of hold up, he said he had been robbed twice ever since he started driving taxi.
"I am now cautious in picking passengers having been mugged twice.
"They pointed a pen-knife at me on both occasions and I surrender the day's takings to them. I did not fight back because to do so means risking serious injury or death. It's not worth it."
Yip hope the government will do more to protect taxi drivers from being robbed by handing out heavy penalties so that the taxi drivers can work without fear in a safer work environment.
On the RM520 tyre subsidy given by the government to help them make ends meet and lighten their burdens, Yip said it does not help much.
Yip drives the Proton Waja and it will cost him more than RM800 excluding other charges as each Goodyear tyre (55 cm) cost about RM200 each.