Story of a migrant worker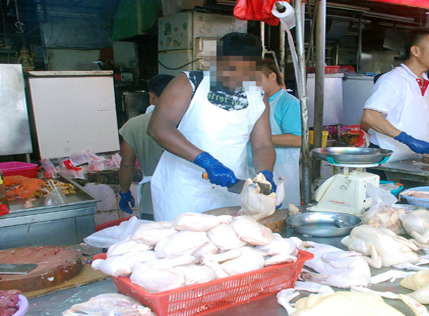 Many people have taken to migration as an opportunity to improve their economic lives and to better themselves for a better future.
In Malaysia, there are currently 2.3 million registered migrant workers according to latest reports.
One such migrant worker is Baber, a 34-year-old Bangladeshi who came from a village in Dhaka.
Baber (not his real name), a Muslim, has requested his name not be used during the face-to-face interview with Citizen Journalists Malaysia (CJMY).
Baber sees Malaysia as a land of opportunity giving him a lifeline to better himself and his family back home.
He had his education up to Junior Level 8 only, speaks a little English and has never been to a foreign country.
His 60-year-old father had retired from work while his mother was a housewife and with four other siblings, Baber stopped schooling in order to work to lighten the family burden.
Job was scarce. Unable to find employment and to make ends meet, Baber's father decided to send him to work in Malaysia when he heard that an agent was recruiting locals to work as factory workers in Malaysia.
"My father had to borrow money from relatives and friends to pay the agent about RM12,000 as agency fees to send me to work here," said Baber.
When Baber arrived in Kuala Lumpur he was sent straight to work in a factory in Puchong, Selangor.
"Life was certainly not a bed of roses for me," he said of his working life experience here.
He could only speak and understand a little English but he was determined to improve his English and learn the Malay language as much as he could to overcome the communication barrier.
Baber worked for about a year at the factory when he decided to run away because he was not paid his salary for several months. He did not return to claim his passport which was held by the employer.
Without a passport, Baber feared being detained by the authorities and charged for entering the country illegally.
He was fortunate. He got a job at a construction site in Damansara Damai.
He said it was tough being a construction worker having to carry heavy loads and standing on scaffolding. Besides the day was always hot and he had to endure the heat from the scorching sun.
In spite of that, he stayed on and worked hard to save enough to get a new passport quickly.
With the service of an agent which he paid RM3,880 as agency fee and after several visits to the Bangladesh embassy, Baber successfully got back a new passport and the permit that followed which allowed him to work here legally again.
When a relative contacted Baber to join him to work at a wet market in Petaling Jaya which was looking for a helper, he did not give a second thought about it and grabbed the opportunity. He left the construction firm.
Baber now works as a stall helper at the wet market. He said he likes the current job which he has stayed on for five years now.
His daily work routine involves starting work at 3.00 am to get the chickens ready and deliver on time to the stall before daybreak when customers start coming in.
By the time he attends to the last customer, it is usually way past 1.00 pm before he finishes work.
He has made friends with some of the migrant workers from Bangladesh who are also working at the market. He now shares a rented room with three other Bangladeshi with each person paying RM150 per month.
Once every two months, Baber remits money back to his parents whom he has not seen for six years since he left for Malaysia in 2007.
He said he misses home, his parents and his siblings and plans to return home in 2015 for a short break when he has saved enough.
Baber said he will return to Malaysia to work because he is already accustomed to the Malaysian way of life which he likes and enjoys.
"I am happy working here. I have made many Malaysian friends. They are very friendly and I love Chinese food, the halal one of course," said Baber who goes to the Section 14 mosque for his obligatory Friday afternoon prayer.