The Regatta in Kuching gets going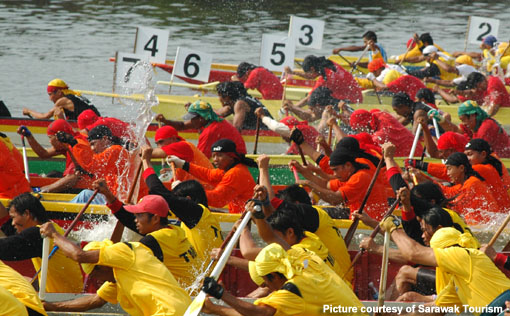 The Sarawak Regatta BandarayaKU was held recently on the February 23 2013 at the Kuching Waterfront.
This is to kickstart the main Regatta that will be held later in the year sometime in September.
This race which is an annual event has been going on for the 3rd consecutive  year.
This year a large number of participants took part.
All in all, there were 79 participants in 9 categories consisting of 30, 20, 15 and 10 paddlers and also participating are the pump ski racers where 14 of them from 10 teams were present.
A total prize of  RM42,000.00 awaits the winners.
The Regatta started at the Pengkalan  DBKU with the arrival of Assistant Tourism Minister, Datuk Talib Zulpilip, DBKU Dato Bandar Datuk Abang Wahap Julai, Damai assemblyman Dr Abdul Rahman Junaidi, Director of DBKU Dr Saadiah bte Samat and Ketua Timbalan Pengarah DBKU Pn Kartina bte Zamhari.
After a light breakfast of local delicacies, the DBKU team started warming up after which they held a Doa session.
Then the two teams took to the river in their longboats.
There were 2 marine boats for the VIPs and the media.
The VIP boat went on a short sightseeing trip upstream while the media boat were taken straight to the starting point at Tanjong Tupong..
When the VIP boat reached the starting point they had to wait a while as one of the participants has not arrived.
Just as  Dr Talib was about to start the race, the last longboat appeared.
When they were all ready, Datuk Talib gave the signal to start the race .
The two marine boats tagged behind the longboats and the race ended at Pengkalan Panjang.
After that,  Datuk Talib, who is also the Economic Development Corporation chairman, released 15.000 Lampan Jawa fish fries into the Sarawak River .
There were also other events held at the Esplanade such as a karaoke contest, traditional Malay drums performance, K-Pop Dance and an auto show.
There were about 1000 people present  at the river front and the event ended late in the evening.