Nicole Ann David receives reward from Penang government
Dato Nicole Ann David received RM100,000 incentives award yesterday here at Komtar.
The reward was for her accomplishment in becoming the first woman to achieve the 7th world title last year when she beat English third seed Laura Massano in a straight set.
The reward, which has been promised earlier by the Penang state government, was due for her success as the best in the field.
The Chief Minister of Penang Lim Guan Eng in his opening speech, emphasized that Nicol's feat is very rare in the Malaysian sports fraternity in Malaysia.
He also stressed that Nicol should win a few more success in the world squash arena and remain the champion for as long as she can.
Nicol who looked cheerful, thanked the Chief Minister for the honor given to her.
Reflecting her success as a journey , Nicol,born and bred in Penang, told reporters and the audience during the ceremony that throughout the years since she became number one in the world ranking , it all started from a humble beginning as a student and a junior squash player.
She also feels very much appreciated of being recognized for her achievement and feels fortunate to be what she is today.
When asked about how she sees younger player fare in world squash arena, Nicol pointed out Low Wee Wern as a person to watch int he future. Low is ranked number 6 in the world recently.
She also singled out the Sports Council of Malaysia for nurturing talents like Wee Wern and stressed out that the level of playing technique among the new crop of players has increased.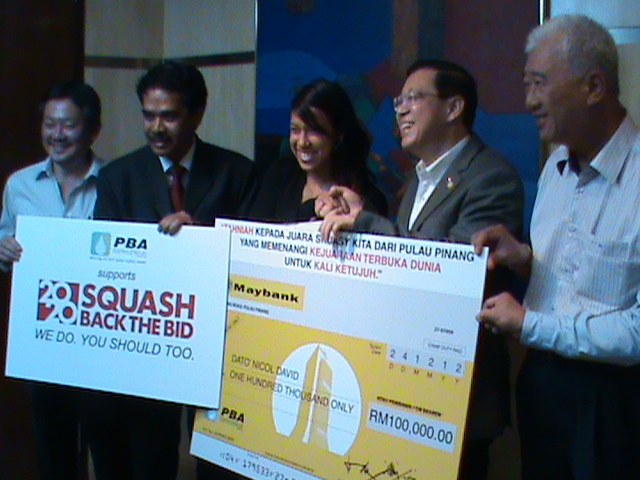 Nicol also mentioned that we should encourage young players to excel in their own time and keep moving forward to the future.