Aid for Damansara Bistari disabled residents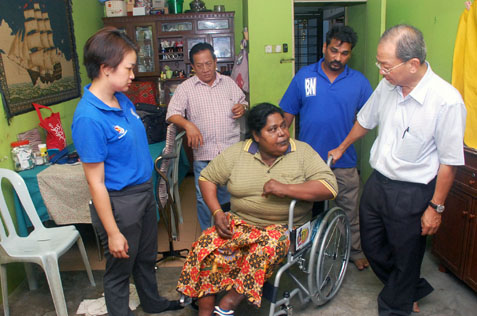 The 1Malaysia Petaling Jaya Service Team handed out aid to the less fortunate (OKU) staying at Damansara Bistari low-cost flats in Jalan SS2/72, Petaling Jaya on April 7, 2013.
The team members led by Chew Hoong Ling and Dato' CK Lim handed over items such as wheelchairs, crutches, walkers and adult diapers to the recipients at their homes.
"We try our best to help the less fortunate in whatever way we can so that they can lead an easier and fuller life," said Chew, who is also the president of Voice of Women Kuala Lumpur/Selangor.
Chew said the aids were given to selected residents on a most deserving basis.
"We want to help these people carry on with their lives just like everyone else in the community," said Lim who is the former Damansara Utama state assemblyman.
Having received the wheelchair, 50-year-old Saraswathy a/p Raman was all smiles and thankful to 1Malaysia PJ Service Team making this possible as she could not afford the costly wheelchair.
Saraswathy developed problems with her kidneys and suffered diabetic and high blood pressure, and needs a wheelchair to move around and reduce the burden her family members have to shoulder.
For Subbammah a/p Kakra Paidiah, 67, a diabetic, has had her right leg amputated below the knee not long ago and is hopeful of getting a prosthetic leg fitted allowing her to walk again.
She said she could not afford the bill as it was too expensive. She is thankful to the 1Malaysia PJ Service Team for helping her to apply for funds from the 1MCA Medical Foundation.
Subbammah said she had successfully applied for aid from the Welfare Department recently and will be receiving her monthly welfare assistance of RM300 starting from this month.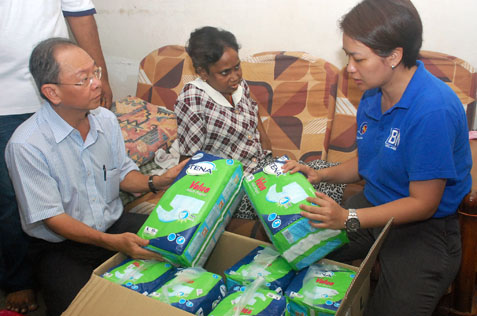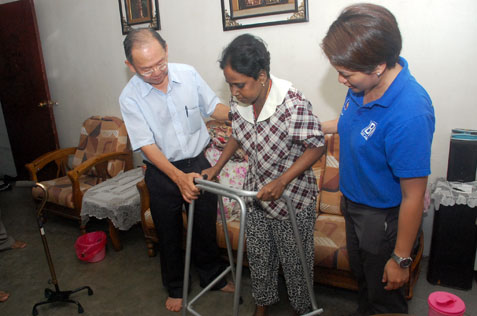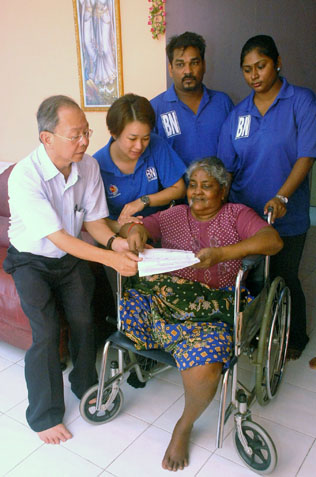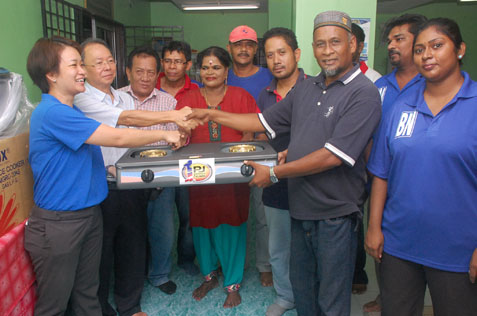 The 1Malaysia PJ Service Team also handed over gas and electrical appliances such as kettle, blender, gas rice cooker and table top gas stove to the flat's surau.
For the past three weeks, the 1Malaysia PJ Service Team had paid visit to the homes and families of 211 units at the flats where Chew and Lim handed out groceries to help lessen their burden.
Chew said during the visit, the team conducted a brief survey to find out from the flat residents what their extra needs were and to see for themselves the conditions like whether they were genuine poor and the number of children staying with families.
"Once the survey is completed and with the information we will carry out community programmes to teach them how to fish and not just give them the fish."
Chew said for a start they will conduct on-going educational programmes and tuition classes for the school-going children who are mostly studying at the nearby SMK Taman SEA.
There are four blocks of A, B, C and D comprising a total of 312 units at Damansara Bistari. Block  A and C each has seven floors whereas there are 11 floors each on Block B and D.
"It is very sad when see the problems plaguing them," lamented Chew.
"It is common to see nine to eleven people stuffed into one small three-room flat and in Block C you can find the more really poor within them and living in sad state.
"The houses around here are reaching million ringgit and they are staying next to millionaires!"
Chew pointed out that some of the units on several floors in Block C were shabby and there were cracks and leaking roofs due to either faulty or damaged gutters.
She said this was the fourth week the 1Malaysia PJ Service Team was actively providing service to the flat residents. There will be a free health check for the flat residents on April 14, 2013.
The residents also took the opportunity to show media personnel a pool-full of stagnant water in an abandoned housing project next to the flats which has become a breeding ground for mosquitoes and a road which caved-in restricting their movement between the blocks.
According to Abdul Kahar, 48, who stayed in Block C for five years, they had highlighted the problems with the authorities some time ago but the problems remain.
He expressed hope that the authorities can look for a way to resolve the issues quickly which are affecting the people.