Songkran: World's biggest water fight in Phuket
The water festival or 'Songkran', marks the start of the New Year in many parts of Southeast Asia, including Thailand.
It's regarded as a time for cleansing and renewal.
In Phuket, this activity started a day earlier on 12th April this year.
Tourists have been streaming into Thailand over the weekend for the popular festival, which runs this year from April 13 to 15.
The centuries-old tradition has become a major attraction for tourists to immerse in local culture and have a bit of fun.
Splashing of the water signifies wishing people good luck and cleansing the sins of the previous year.
Though an ancient tradition but it has evolved into a wild, nationwide water fight.
Revellers arm themselves with water pistols, pail and bottled water, while taking aim at one another, and any passers by.
Songkran in Phuket and the whole of Thailand today means big bucks for the tourism industry.
The Thai government promotes the festival on its tourism calendar.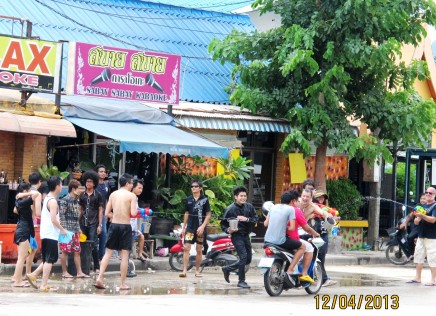 No one is spared