Citizens group urged Malaysians to 'media fast'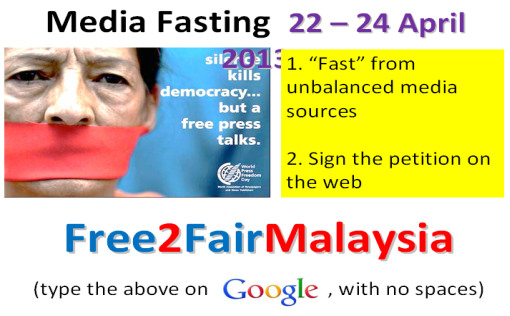 A group of concerned citizens will be doing a 'media-fast', by abstaining themselves from reading or watching certain mainstream media.
The fasting which will take place on April 22 to 24, will be done in support of Free Media for a Fair(er) Malaysia.
The campaign requires Malaysians to avoid buying newspapers and abstain from reading and listening to newsreports from the mainstream media including those from radio and television.
"One doesn't even have to leave home, to be part of this. That's how simple this is," said Dr Brendan, a psychologist supporting the cause.
"In a recent report, we found out that press freedom in Malaysia has dropped to a ranking of 145 out of 179 countries in the World Press Freedom Index." he continued.
One of the objective of abstaining from an unbalanced media is to bring about awareness on other media that provide balance coverage and information.
The group also poised to generate support to media practitioners who want the restriction imposed on to them, lifted.
'Free2FairMalaysia' had also started an online petition to pressure the government to remove restrictions imposed on media and promote space for a more balanced information.
Following this the group had also produced a three minute YouTube video titled 'Free Media for a Fair Malaysia'.
"It's exercising our freedom to think independently, and its enshrined in the Universal Declaration of Human Rights," said Brendan.
The World Press Freedom day on May 3, which is just two days before the polling day, serves as a crucial reminder that democracy and freedom of information goes hand-in-hand.
The group also hope that their petition effort will be able to garner 100,000 signatures, which is their target.
Presently, there are 67 signatures (at the time of writing)
According to Dr Brendan, the passive 'media fasting' for three days will create awareness that the rakyat is hungry for more from the leads who have the power to change the situation in the country, holding the government and media accountable to the people.
"All these – the fasting, petition, YouTube video – has been a slow process of helping to bring about awareness that democracy in Malaysia needs free media to prevail," he said.
More information on Free2FairMalaysia, can be found on their blog.