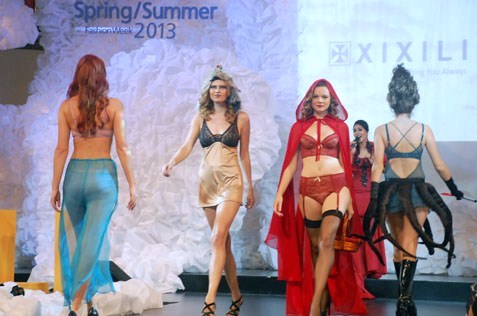 Home-grown Malaysian lingerie brand Xixili made waves with the hottest happening event in town on April 18, 2013 in conjunction with the Mid Valley Megamall Fashion Week 2013.
The event saw Xixili debuting her Spring/Summer 2013 intimates collection with a speckle of hot picks from Autumn/Winter 2012 in a lingerie fashion show, the launching of "Fitting You Perfectly For Life" campaign to get women to wear the right- sized bra and the opening of Xixili's new lifestyle store at Mid Valley Megamall, Kuala Lumpur.
In her opening address at the event, Xixili Intima founder and CEO Joanne Khoo called for everyone to embrace women of all shapes and sizes.
"At Xixili, we are nine-years-old today but we have learned a lot throughout the process that although we may not be perfect yet, but we have found the perfect fit for women because we carry a large inventory of sizes," said Joanne Khoo.
"We believe that if we want to do business well, integrity is the essence of all things beautiful."
Joanne Khoo said studies showed that 80% of women worldwide today were wearing the wrong-sized bra and Xixili aimed to correct that by educating women to find the right sizes to best fit them throughout their life stages.
She said a correct fit bra is important for proper posture, total comfort and self-confidence.
"If we want to make women beautiful, we cannot be carrying just size A, size B or size C.
"I am quite sure many of you out there are not just a A, B or C but at Xixili today we have worked very hard and we are not just giving you A, B and C.
"We have sizes D, E, F, G, H and I am just moving forward to size I for next year and I won't stop for as long as there is a customer out there who has bigger needs than I do."
To mark the joyous occasion, Joanne Khoo released a huge bundle of Xixili orange and fuchsia pink helium-filled balloons which floated toward ceiling of the mall to signify the uplifting of women's bustlines and confidence in line with the brand's vision "Uplift You Always".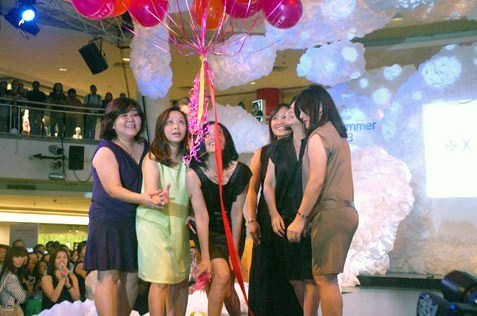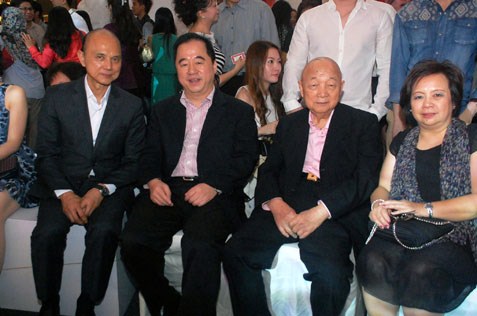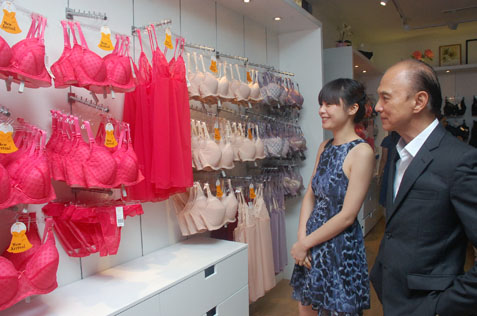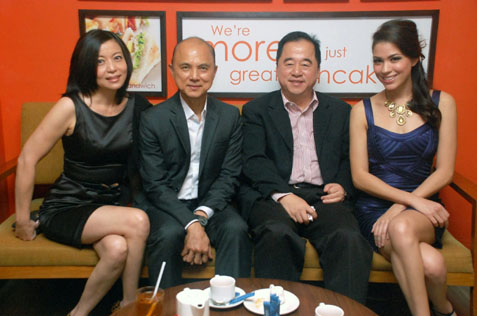 Next, the brand emphasized its firm commitment to fulfill every woman's dream of an improved and uplifted bustline through its revived "Fitting You Perfectly For Life" brand message, which was launched.
This was followed by the lingerie fashion show aptly titled "Once Upon a Fairy Tale: Good vs The Wicked" which drew a packed crowd that came to see the show and they were not disappointed.
Miss Malaysia World 2010 and Xixili brand ambassador Nadia Heng emceed for the event.
Xixili ingeniously intertwined and flaunted a showcase of her myriad wardrobe of intimate wears fit for all women on any occasion.
The show opened with singer Syafinaz Selamat crooning out sweet rendition of Disney tunes.
The models then paraded in duos casting fairy tale characters inspired by well-loved Disney sweethearts and their wicked counterparts as they showcased Xixili collections that sizzled.
Spotted on the runway were Disney characters such as Ariel, the Little Mermaid and Ursula, the Sea Witch; Little Red Riding Hood and the Bid Bad Wolf; Cinderella and her ugly Stepmother; Princess Jasmine and magician Jafar; and Alice in Wonderland and the Queen of Hearts.
Present at the event were Wawasan TKH Group chairman Dato' Tan Kim Hor, Xixili Intima chairman Dato' Tan Boon Pun, CosmeCurl CEO Tan Bee Huat and shoe maker Dato' Prof. Jimmy Choo, among others.
Xixili Intima and Cosme Curl are members of Wawasan TKH Group.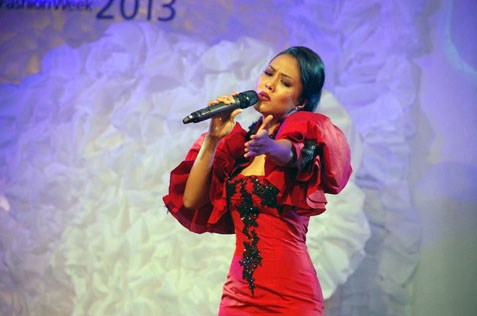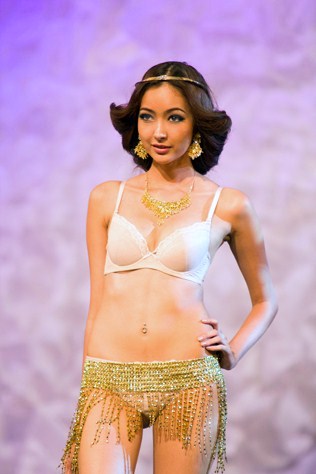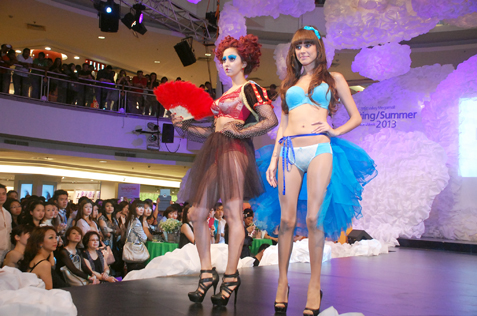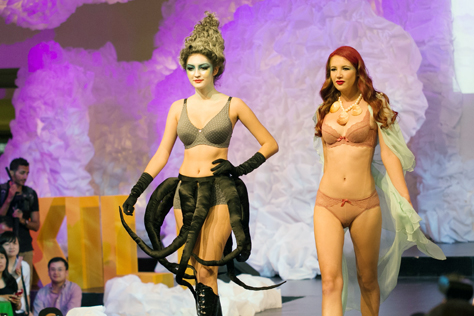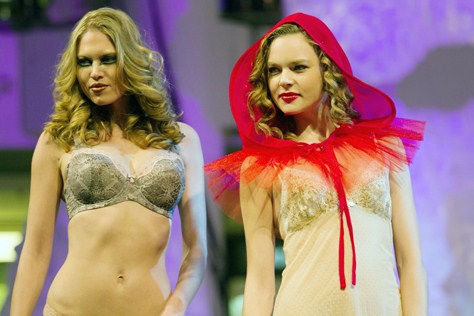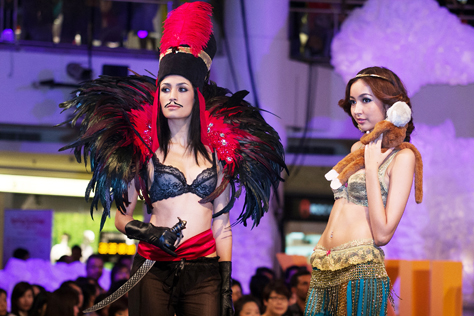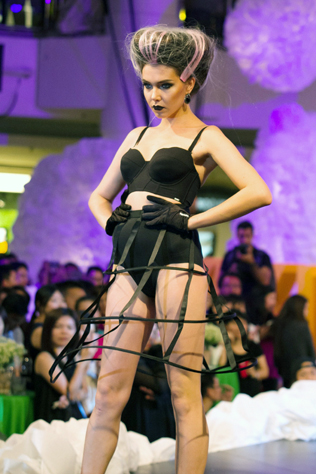 In an interview afterwards with Citizen Journalists Malaysia (CJMY), Joanne Khoo said that the lingerie fashion show was tastefully done with female models of all body types, large and small, walked the runway with all the right cup sizes and shapes from Xixili.
"So how do we embrace these women?" she asked
"We embrace them by giving them the correct brassiere. Wear the right undergarment and they look better boosting their confidence and self-esteem.
"As you see, we don't give the stereotype of what a universal model normally looks like. Instead we give you a variation where you see women representing all body types of V, I, A and X so we are all different.
She said the female body were categorised into four most common body shapes of V, I, A and X.
"V is for top heavy but narrow bottom, I is cylindrical, straight and not much curve. A is like the pear shape, narrower at the top than at the bottom and X is the hourglass, the perfect shape," explained Joanne Khoo.
"You see some of the larger women on the catwalk are actually wearing E, F, and G cup sizes. They walk very confidently and they don't look anything like sway and bounce so the whole catwalk show is to show that we do not want to typify big means 'not nice'.
"The bad and the wicked is also to show that lingerie has a day and night use. You can be angelic and demure in the day and provocative and sensual at night."
On the "Perfect Fit" campaign, Joanne Khoo said it was an educational drive to create greater public awareness on the importance of wearing the right sized bra and the adverse effects for wearing an ill-fitted bra.
"We do a lot of activities like road shows and giving talks at colleges, universities and companies to get our message across," said Joanne Khoo.
"We encourage the ladies to come to our stores to be measured by our professionally trained Perfect Fitters who are experienced in providing personalised fitting consultations and guidance of finding the perfect fit.
"We have a bigger variety of cups to fit women of all shapes and sizes."
The revamped Xixili lifestyle store featured, among other upgrades, spacious fitting rooms with cosy lounge corners, large long mirrors and fuchsia coloured cushion chairs to give a 'home away from home' intimate shopping experience for customers.
"The fabrics are imported from Spain and Italy and manufactured at our factory in Kota Damansara in Petaling Jaya employing over 100 foreign workers. So, in a way, our products are foreign-made," Joanne Khoo said.
On the origin of the brand name Xixili, she said it derived from a Spanish lady's name.
"I wanted a name that starts with X so that I can show a lot of Xs around because X is the perfect shape," she said.
"I searched the internet for a girl's name in Spanish or Italian. I went for the Spanish name first and Xixili came out. I look at the name Xixili and it sounded very nice."
Since its establishment in 2003, the Malaysian label founded by Joanne Khoo has grown rapidly and successfully to become a household name to women for its high quality, comfortable and stylish undergarments.
The design and manufacture of the bra started in 2003 and by March 2004 it opened its first outlet at 1 Utama Shopping Centre in Petaling Jaya.
Today it has seven lifestyle boutiques and more than 40 outlets at leading departmental stores nationwide boasting an extensive vibrant and trendy intimate collections to satisfy even their most discerning customers.
With the products and brand in high demand including from foreign customers, it is ready to explore the international market and to start an online shop.
"Right now we are looking at the market in the region and finding the right regional partner is important," said Joanne Khoo.
"We plan to roll out online shopping by end of this year to cater to demands from local and oversea buyers."
Soon customers won't have to leave their homes to shop at Xixili's and with just a few quick clicks away can have the products delivered to their homes.