CASP's 10 years in solidarity with people living with HIV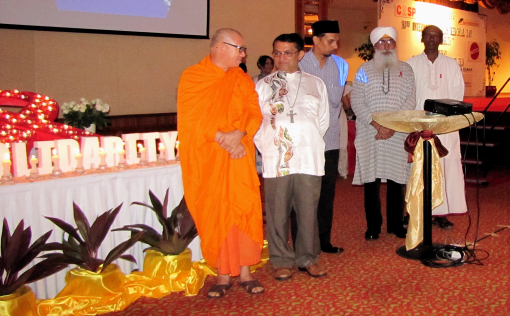 Community AIDS Service Penang (CASP) organised a fundraising charity dinner at Bayview Beach Resort, George Town in conjunction with International AIDS Candlelight Memorial Day on 18 May 2013 for the 10th consecutive year.
CASP's objective in organising the fund-raising dinner every year is not only to raise funds for the running of their shelter home but also to raise awareness and provide information on HIV/AIDS issues that are affecting Malaysians.
The theme of the 30th International AIDS Candlelight Memorial is 'In solidarity'.
The International AIDS Candlelight Memorial is commemorated worldwide on every third Sunday of May.
Communities will raise awareness around HIV, stand together with people living with HIV and remember the loved ones lost to HIV and AIDS.
Present at the dinner were guests of honor, Dato Kramat ADUN Jagdeep Singh Deo and Malaysian AIDS Council chairperson Dr Raj Karim.
The Bayview Beach Resort general manager Edwin Yap too was present with his wife.
Bayview Beach Resort co-host the dinner function and had been supporting CASP's charity dinner, all the years, as part of its Corporate Social Responsibility.
Representing the various faith were Bishop Sebastian Francis, Rahman, Ramachandran and Venerable Dhammaratana Maha Thera.
Jagdeep, in his address, highlighted the work done by CASP and called them 'the unsung heroes', who have been championing the rights of people living with HIV/AIDS.
The CASP chairperson, P R Selvarajan, delivered the keynote address. He thanked the diners for their ardent support as he said that, for all these years without their support, this event would not be possible.
"The theme 'In solidarity'; emphasizes the need for people living with and affected by HIV to join hands and work together in the response to HIV," he said.
"Solidarity in communities is essential to reduce stigma and promote the involvement of people living with HIV in order to ensure a more effective HIV response.
"Only together as communities can we advocate for universal access to quality health and social services.
"Let us join hands in solidarity to help those infected and affected by this deadly virus by helping to reduce stigma and discrimination and reaching out in compassion and love to help them live."
He then announced CASP's forthcoming Silver Jubilee Celebrations in 2014, with the theme '25 years of Touching Lives' and appealed once again for their support.
The celebration will be year-long – beginning with World AIDS Day 2013 and climaxing in World AIDS Day 2014 with a 'Grand Walkathon'.
He reminded the audience that our battle with HIV/AIDS will only make a head-way if all of us join hands to support all that is being done to stop the further spread of the virus as well as show support and care for the infected and affected.
The highlight of the event was the Inter-religious prayer service which was prayerfully conducted by the representatives of all the religious groups. This was followed by the solemn moment of lighting the memorial candles in memory of all those lost to AIDS.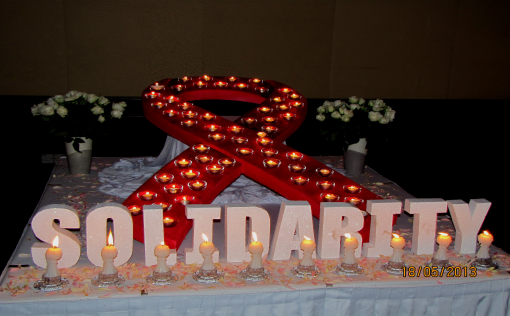 Michael Xavier and Kalah Rani did an excellent job as emcees and kept the diners entertained with their witty jokes and also stressing the need to join hands in the fight against HIV/AIDS – and also ways to reduce stigma and discrimination.
The entertainments lined up – Vidaya Entertainers, Rockin Katz Strikerz and the Zumba Fitness Group under the leadership of Ms Lisa Lim kept the crowd entranced with their performances
Diners were given a scented soap as door gift when they entered.  The scented soap were produced by their Shelter Home as a source of generating income. Those who wish to purchase the scented soap, or like to help CASP in any way, can contact the chairman at [email protected], tel. no. 012 4511762
Related article:  CASP organises International AIDS memorial day on 20 May.