Georgetown Festival is back!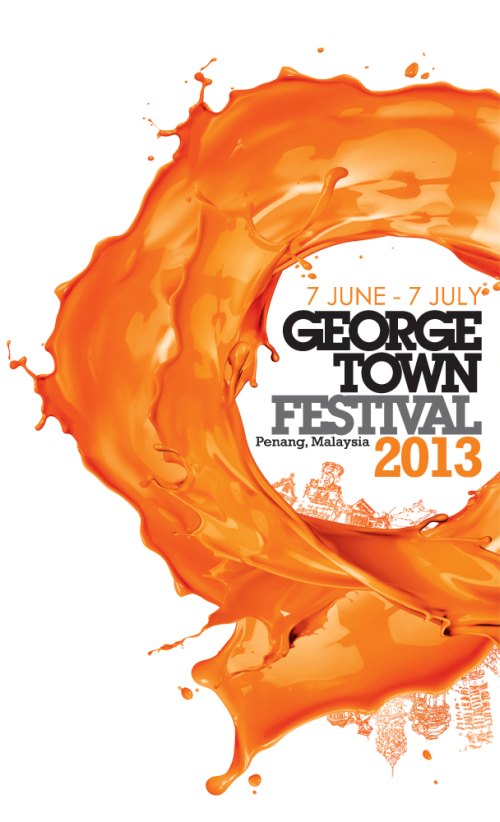 Penang's month-long arts festival is back. The Georgetown Festival, inaugurated in 2010, to commemorate George Town's 2008 inscription as a UNESCO World Heritage Site is set to take off on 7 June 2013, and will last till 7 July 2013.
The objective of the Georgetown Festival 2013 (GTF 2013) is to promote arts and heritage in Penang.
During this month, Penangites and visitors will be treated to a feast of theatre, music, dance, film, food, fashion, exhibitions, inspirational talks, and visual spectacles on the streets.
GTF 2013 will be launched on 8 June at the Esplanade, with an extravagant Kite Festival.  Master Kite makers and kite flyers from around the region will be present.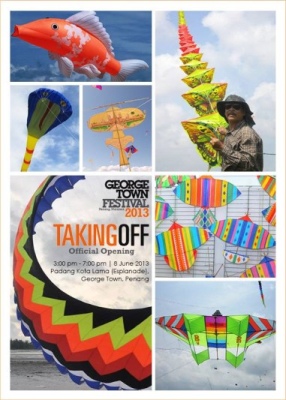 The event will begin from 3.00pm to 7.00pm. Among the highlights are a kite-making workshop, display of local kites and kiting design by Persatuan Pelayang-Pelayang Pulau Pinang and stilt walking performance.
It will end with a grand rousing and participatory percussion session with 350 drums, coordinated by Tugu Drum Circle.
According to Joe Sidek, the festival director, this year's GTF focus on keywords 'community', 'interaction' and 'spaces'. As such, several local and international performances will be staged for public and thus free for all to attend.
One of the interesting free event is the 'Bridges and Kaki Lama' a traditionally-inspired street dance show that will take place in and around the five-foot ways of the shophouses along Victoria Street (June 29).
'Obscura' a photography festival is also free of charge.
OBSCURA is the biggest photography festival in Malaysia to date, with 11 photography exhibitions, seven curated slideshows and talks by some of the world's most prominent photographers and curators.
This inaugural photography festival aims to engage and exhibit photography works by both professionals and amateurs through a  series of public exhibitions, talks and forums, workshops and portfolio reviews. Participating photographers include Texas born  Maggie Steber (who worked with the Smithsonian and National Geographic), Ian Teh from London (Time and Newsweek)
On the art front, Indonesian artist Joko Avianto will build a 15-metre high bamboo installation between two iconic Penang buildings, Town Hall and City Hall; Australian artist Tim Craker will exhibit sculptures made out of everyday objects (pails, cloth hangars, etc); and established Taiwanese glass sculptors Loretta Yang and Chang Yi will display their latest collection.
Some of the top-tier international productions that require purchase of tickets are 'Sutra' (June 29 – 30), a Shaolin monk-inspired dance work by celebrated Flemish/Moroccan choreographer Sidi Larbi Cherkaoui and 'A Night of Comedy with Kumar'; where Kumar is a well known stand-up comedian, actor, host and drag queen from Singapore.
A full list of the events and other details can be viewed at the GTF 2013 website.
The George Town Festival is jointly organized by the Penang State Government, Penang Municipal Council, George Town World Heritage Inc. and Penang Global Tourism. The festival director is Joe Sidek, choreographer and stage maestro. Joe, together with his dedicated team are the ones responsible for putting the festival together.