Charity auction night in aid of Rotary Club
The charity auction night at The Venue in Pavilion Kuala Lumpur held for four consecutive Saturdays from 9 pm on June 8, 15, 22 and 29 is being organised to raise fund for the Rotary Club of Bandar Utama, Petaling Jaya.
The items up for auction, including dresses, necklaces and watches, are donated by celebrities and well-wishers.
"I am delighted with the generosity of the people for a good cause.
"This is the first time I am doing a charity auction and it's so inspiring to see many people showing their support and enthusiasm," organiser June Yappie Shan told Citizen Journalists Malaysia (CJMY) on June 22, the third night of the charity auction.
All the auction items were successfully snapped up by the end the night which was attended by members of the media, including from CJMY.
So far it has raised RM16,150 over the three Saturday nights and it hope to achieve a higher collection with the final tally count on June 29 which is the fourth and last charity auction night.
"I have always wanted to do something meaningful for charity," said June, who is 5 feet 9 inches tall and the first runner-up of Miss Malaysia Tourism Queen International 2006.
That opportunity came when she met up with event director and television producer Kenji Chan  and Miss KL Chinatown 2013 pageant organiser Virgo Philip.
The three of them who have vast experiences in their respective fields got together, co-organised the event, including talking to the owner of The Venue to use as event venue, and successfully kicked off the project.
"I never expected so many of my celebrity friends supported my idea and they came to show their support.
"It was such a good response and because of that, it has changed my way of doing business which is to achieve a healthy balance between business success and social responsibility.
"I will now do more for charity," quipped June, who runs an event management and modelling agency since 2007 at Merchant Square in Petaling Jaya.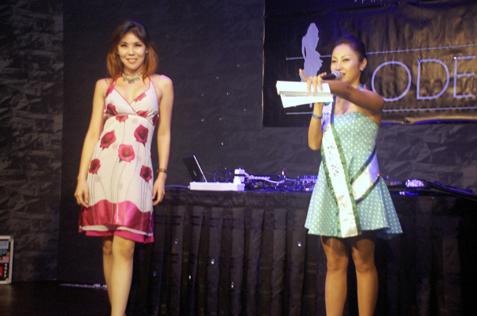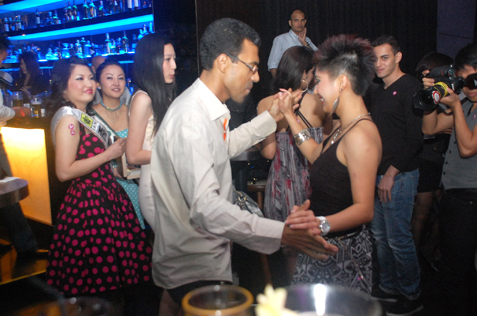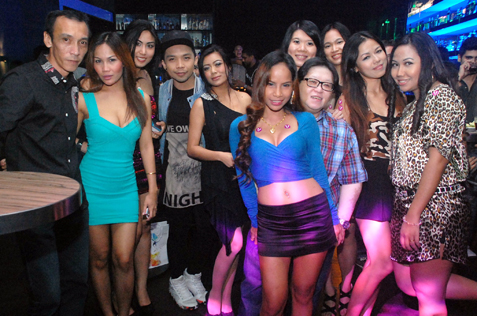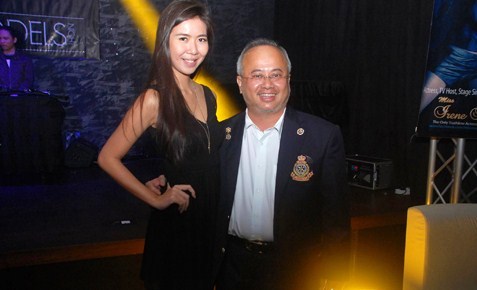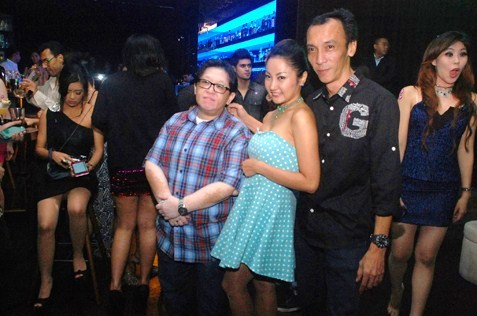 Eteck Tan, the president of Rotary Club of Bandar Utama RI District 3300 for 2012/2013 was present to thank everyone for their support saying the proceeds from the charity auction night will be used to carry out community service projects such as helping the poor, needy, the special needs and underprivileged children.
He urged everyone to contribute and continue giving their support to Rotary Club for its fund-raising programmes.
Emcee for the night Miss Petite World 2012 Irene Tan turned "auctioneer" and did very well to get the items "sold" to the highest bidder.
Irene Tan who is an actress, TV host and stage singer and the only triathlete actress in Malaysia said she was delighted to find people willing to give more for a good cause.
Saturday is designated Models Night (launched on May 18 by The Venue), where models and celebrities come together to meet, relax and unwind over music and drinks so patrons who come to bid for the auction items get to party with them.
A disc jockey played loud music to set the party mood for the evening.
Miss KL Chinatown 2013 pageant winner Jillian Choo and first runner-up Jasmine Soo will join a host of models and celebrities on the final charity auction night on June 29, said co-organiser Virgo Philip.
He said the two beauties will render a number of highly electrifying songs and dances to entertain a much larger crowds anticipated.
"I hope many people will come out, bid on the auction items and help out a good cause while partying the night in the company of beautiful faces out for this great cause," said Philip.
Kenji Chan hopes everyone enjoys a wonderful evening while helping to raise funds for Rotary Club to help those people in the community who require our help.