Fire safety awareness to counter home fire incidents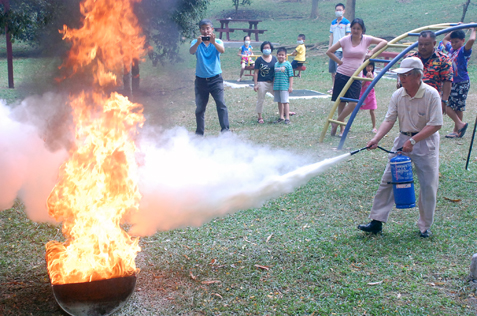 Two recent small home fire incidents in Section 20 Taman Paramount in Petaling Jaya had raised awareness about the fire danger in their neighbourhood.
The fire incident caused the Taman Paramount Residents Association (TPRA) to organise a fire safety awareness event to educate and reinforce the importance of fire safety for residents.
Despite the haze, some 100 residents gathered on Sunday morning June 23, 2013 at a field in Jalan 20/20.
"When a fire accident happens, most of us are just standing around not really able to offer any help simply because we do not know how.
"We want to bring this awareness to everybody of what can happen and how we should be able to handle in such a situation," said TPRA chairman Kassim Bin Salleh.
He said the objective of the event was to raise awareness of fire prevention and safety and help reduce such fire incidents.
"We are getting the residents to come together here today to see what the Bomba can show how to handle a small fire," said Kassim.
Firefighters from Damansara fire and rescue station in Jalan SS2/2 led by its B Team chief Jaswant Singh demonstrated how to correctly use a portable fire extinguisher to put out a small fire.
The sight of the fire engine with the flashing lights and the wail of sirens got the children and even adults excited.
It was definitely memorable as they sat on the driver's seat, tried on helmets, climbed up the ladder and posed for photos.
A booth with leaflets provided a variety of information on fire safety and prevention for home owners and businesses.
Another booth offered fire fighting products such as portable fire extinguisher, fire blanket and smoke alarm.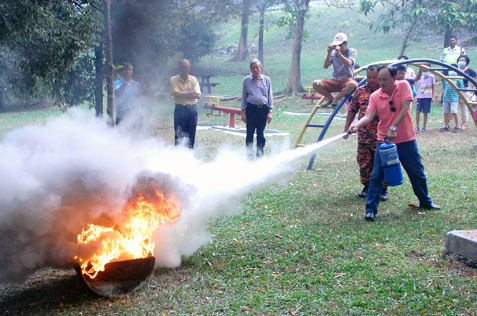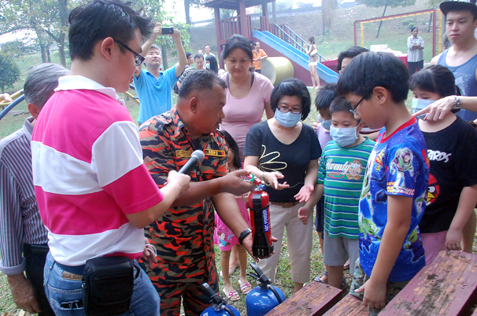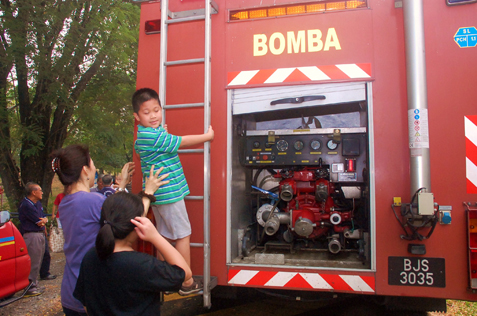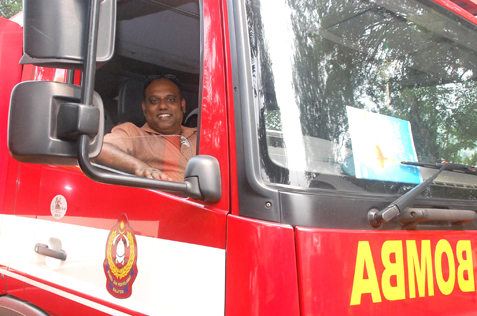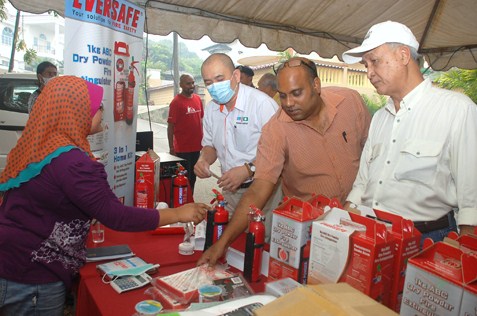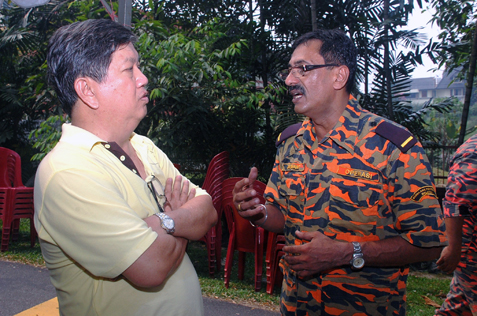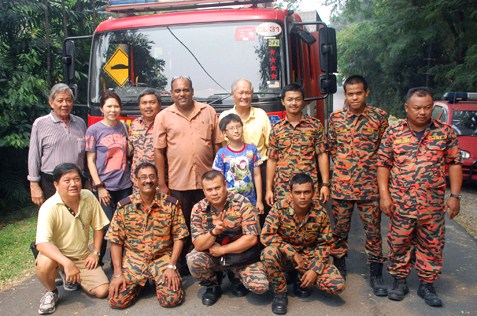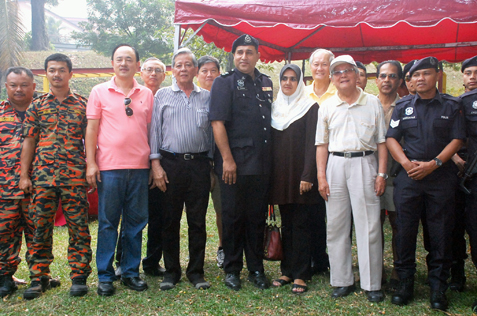 Kampung Tunku state assemblyman who pledged RM1,000 to the RA said it was important to educate the people about fire safety as it has always been neglected.
He urged the residents to check on the working conditions of fire hydrants and whether there were enough fire hydrants to fight a fire in their area.
He also said checks must be made on the plug sockets in their kitchens from time to time as they could catch fire which he had experienced before.
Balai Polis SEA Park OCS Inspector Gunam Resul said the police was always involved in the activities of RA and RT in Section 20 and 21 which helped to forge close rapport with the residents.
On the security issue, he said, "We are always around in your neighbourhood.
"We join hands together with the Rukun Tetangga (RT) and Residents Association (RA) to fight crime."
He said after the recent meeting he had with TPRA, the police carried out their crime prevention rounds daily in Taman Paramount with a patrol car and two or three police officers on motorbikes.
The SEA Park police station has jurisdiction covering a large area which included Section 11, 12, 13, 14, 19, 20, 21, SS2, Jalan  222, 223, 227, part of 229 and Tropicana City Mall area.
"Everybody needs the police to be hands-on but with the limited resources that I have, I will try my level best for the safety of the community."
Petaling Jaya City Council (MBPJ) councillor Jeyaseelen Anthony said it was a great initiative by the RA to remind everyone of us of the importance of being careful with fire.
He said he was excited as it was the first time he had seen the involvement of Bomba in a community project.
"As a kid I always wanted to get into a fire engine and mess around with it. Today hopefully I can do it after 41years".
MBPJ Complaints Unit director Tengku Nazaruddin Zainudin said every home should have a fire extinguisher especially in the kitchen where fires were most likely to break out.
He said a recent fire incident at a food court in Jalan Penchala was due to negligence because the chicken rice stall owner had unknowingly bent the pipe when he was changing the single head gasket causing gas to backflow into the control valve and caught fire.