Dettol spreads the spirit of Ramadan
Hygiene Expert, Dettol raises RM25,000 with its Ramadan Charity Drive for non-profit organization My Kasih.  For every RM20 worth of Dettol products purchased at any Giant store, Dettol donated RM0.50 to charity.
"We are glad to work with our trade partners to disseminate hygiene messages and encourage our consumers to adopt good hygiene habits especially when Raya is approaching. In addition, Ramadan is also a period of reflection and giving. Therefore, we wanted to make the whole campaign more meaningful by asking our consumers to join in the campaign to reach charitable homes and ensure a joyous Raya celebration for all." adds Sales Director of Reckitt Benckiser Raghu Krishnan.
The money raised will go towards supporting the MyKasih 'Love My Neighbourhood' programme and the MyKasih 'Love My School' programme. MyKasih is one of the trusted non-profit organizations having provided aid, health awareness and financial literacy programmes, children's education and skills training programmes to the less fortunate in Malaysia.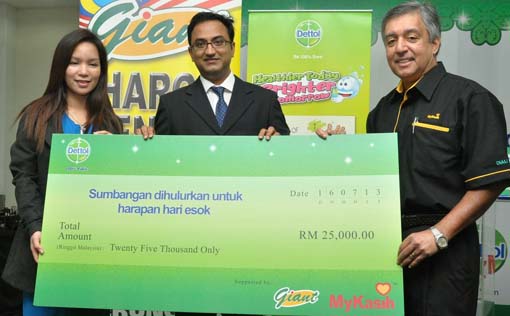 Present during the mock-cheque presentation ceremony, MyKasih Foundation Managing Director Jeffrey Perera said, "We would like to express our gratitude to Dettol for selecting MyKasih as a beneficiary of its Ramadan Charity Drive. The contribution of RM25,000 raised in Giant chain towards the MyKasih 'Love My Neighbourhood' programme will give the underprivileged a joyous Raya celebration. This is such a meaningful gesture, especially during this month of Ramadan."
"Our customers were very responsive towards the campaign, in the first two weeks we received an overwhelming response from patrons. We too are believers in the need for a healthier Malaysia and this campaign I'm sure is merely the start of many more to come. In addition to this, as responsible corporate citizens we hope to also lend a helping hand to these underprivileged families." said Norine Majaman, GCH Retail's General Manager for Marketing.
The Ramadan Charity finale saw children beneficiaries of MyKasih give a vibrant performance demonstrating the 7 important steps to hand washing, while Dettol Boy wooed the crowd and had the children in stitches as he came to join them on stage for the performance.
Also showing their support and joining in the fun were TV presenter Azura Zainal, actress Siti Saleha, Miss Tourism International 2011 Gabriella Robinson and Miss World Malaysia 2011 Chloe Chen.