Traffic almost at standstill following MRR2 flash flood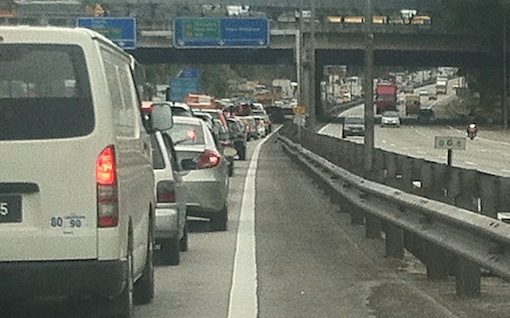 A massive traffic jam caused by the early morning flash flood at the Middle Ring Road 2 (MRR2), has caused all roads heading towards Kuala Lumpur experiencing a bottleneck and vehicles crawling, stretching to few kilometres.
Two main entry point to city, the Jalan Duta toll plaza and Sungai Besi toll plaza were the worst affected with motorists becoming impatient with the almost standstill traffic for the past 3 hours.
According to Thinakaran Thangavelu, who travels to work at KL Sentral from Rawang, said that he was stuck in the jam for the past  2 hours-plus.
"It only takes less than 50 minutes to reach KL Sentral, even in the infamous Malaysian rush hour traffic," said Thinakaran.
He also said that the traffic was much more fluid after the MRR2 exit after the Jalan Duta toll plaza.
According to Dewan Bandaraya Kuala Lumpur ITIS twitter update, the  heavy morning rain today has caused flash floods, which was reported at Ulu Klang heading towards Ampang near Kampung Pasir.
In an effort to help divert the excess flood water, the Stormwater Management and Road Tunnel (SMART) management has closed the tunnel.
More to follow