Sombre mood at Chin Peng's funeral
PKR vice-president and Batu MP, Tian Chua attended ex-Communist Party of Malaya general secretary Chin Peng's funeral service at Wat That Thong Temple, Bangkok on Saturday (21 Sept).
Tian Chua said that Malaysians should not deny that Chin Peng has played his role in building Malaysia as well as entire national liberation of Southeast Asia.
"I came as a friend and family and also as a Malaysian. We have our evaluation of his role in the country even if we agree or disagree over his ideology. We must recognize that he was part of Malaysian history. He and his generation have shaped what we are today. And together with other leaders in Southeast Asia, they shaped the map of Southeast Asia." Chua said after attending the ritual.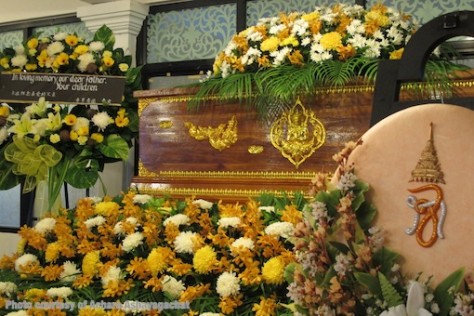 Others who came to attend the funeral service were former 4th army region commander of Royal Thai Army, Gen Pisarn Wattanawongkiri and Gen Kitti Ratanachaya. General secretary of ex-Communist Party of Thailand, Thong Chamsri as well as its retired members also paid their last respects to Chin Peng.
The youngest daughter of HM King Bhumibol Adulyadej, Princess Chulabhorn Walailak of Thailand also sent wreaths for the late CPM leader.
After signing a peace accord with the Malaysian government at Hat Yai, Thailand in 1989, Chin Peng was living in exile in Thailand and had not been permitted to return to Malaysia. He died at the age of 88 on the 50th anniversary of Malaysia day.