33,000 at KL Marathon 2013 Run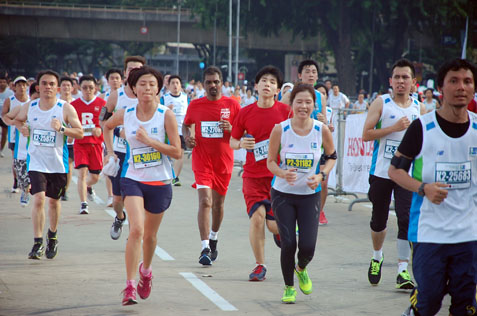 Some 33,000 runners from all over Malaysia and over 48 countries ran for a reason on Sept 29 at the Standard Chartered KL Marathon 2013.
It represented a new record with a 17% participant growth over last year's race.
Participants ranging from elite professionals to first-time amateurs running in various categories took off from the starting lines in Dataran Merdeka and Jalan Parlimen.
Kuala Lumpur City Mayor Datuk Seri Ahmad Phesal Hj. Talib fired the starting gun at 4.30 am to signal the start of the Full Marathon category (42.195 km).
This year's champions were Kennedy Kiproo Lilan and Rose Chekurui Kosgei, both from Kenya, who won the Men's and Women's Full Marathon Open Category with respective times of 02:19:01 and 02:41:05.
The current record time is 02:14:45 (Men) and 02:34:37 (Women)
Lilan who was also last year's Standard Chartered KL Marathon champion and Kosgei each received prize money of USD17,500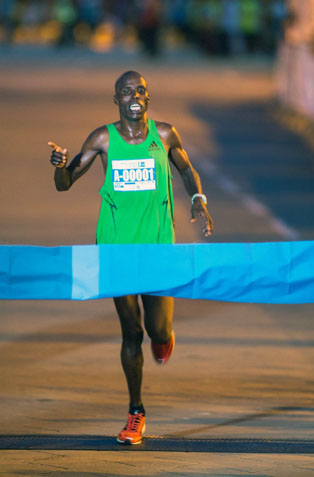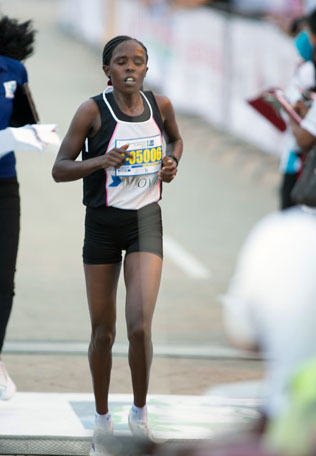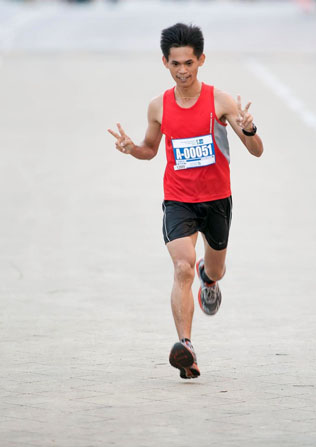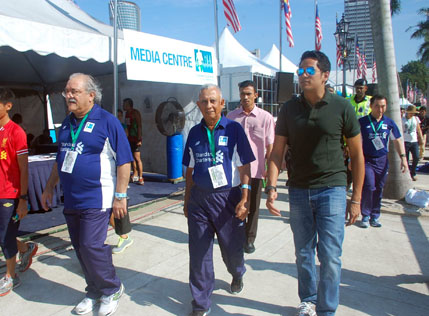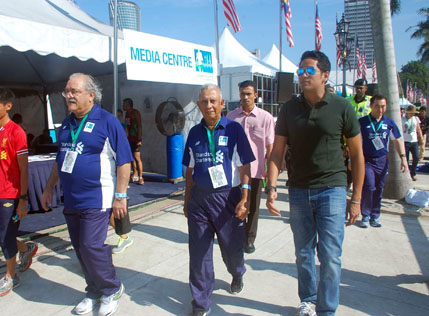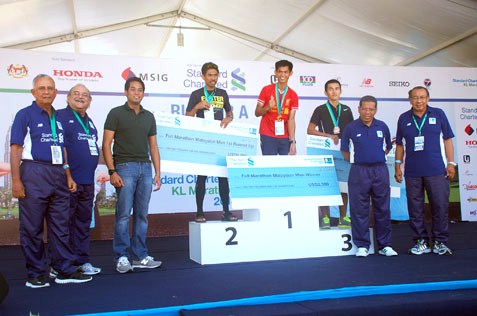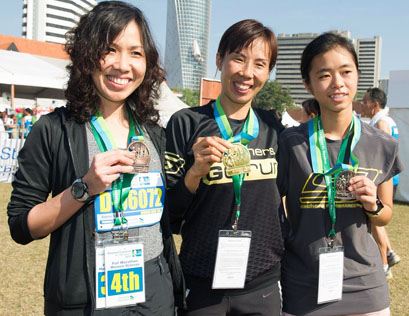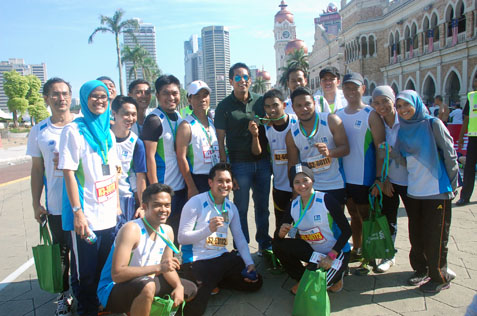 For the Full Marathon Malaysian Category,  Fabian @ Osmond Bin Daimor won the Full Marathon Malaysian Men's Title and Yuan Yu Fang took the Malaysian Women's category with a time of 02:41:55 and 03:37:16 respectively.
The current record time is 02:29:27 (Men) and 02:49:28 (Women)
Fabian and Yuan each received USD2,500 as prize money.
Youth and sports minister Khairy Jamaluddin presented medals and mock cheques to some of the marathon winners.
The 5th edition of Standard Chartered KL Marathon featured a total prize purse of USD112,000.
The Standard Chartered KL Marathon 2013 is organised by Dirigo Events Sdn Bhd and co-organised by Kuala Lumpur City Hall (DBKL) and Ministry of Youth and Sports.
Standard Chartered Bank Malaysia is the title sponsor for the fifth year.
Winners of the Standard Chartered KL Marathon 2013
Full Marathon Men's Open
| | | | |
| --- | --- | --- | --- |
| Position | Name | Country | Time |
| 1st | Kennedy Kiproo Lilan | Kenya | 02:19:01 |
| 2nd | Chelimo Luka Kipkemoi | Kenya | 02:19:35 |
| 3rd | Kosgei Robert Kilagat | Kenya | 02:19:50 |
Full Marathon Women's Open
| | | | |
| --- | --- | --- | --- |
| Position | Name | Country | Time |
| 1st | Rose Chekurui Kosgei | Kenya | 02:41:05 |
| 2nd | Viola Chepleting Bor | Kenya | 02:41:26 |
| 3rd | Rose Kerubo Nyangacha | Kenya | 02:42:31 |
Full Marathon Malaysian Men
| | | | |
| --- | --- | --- | --- |
| Position | Name | Country | Time |
| 1st | Fabian @ Osmond Bin Daimor | Malaysia | 02:41:55 |
| 2nd | Shaharudin Bin Hashim | Malaysia | 02:45:28 |
| 3rd | Lim Kien Mau | Malaysia | 02:47:53 |
Full Marathon Malaysian Women
| | | | |
| --- | --- | --- | --- |
| Position | Name | Country | Time |
| 1st | Yuan Yu Fang | Malaysia | 03:37:16 |
| 2nd | Loh Chooi Fern | Malaysia | 03:37:34 |
| 3rd | Choong Swee Ying | Malaysia | 03:38:43 |
Full Marathon Veteran Men
| | | | |
| --- | --- | --- | --- |
| Position | Name | Country | Time |
| 1st | Charles Kimingi Thaiya | Kenya | 02:42:42 |
| 2nd | Philip Chichir Lagat | Kenya | 02:51:59 |
| 3rd | Luc Bodart | Australia | 02:52:54 |
Full Marathon Veteran Women
| | | | |
| --- | --- | --- | --- |
| Position | Name | Country | Time |
| 1st | Chothit Kan-Uam | Thailand | 03:23:17 |
| 2nd | Julie Foreman | United Kingdom | 03:26:35 |
| 3rd | Jane Kanizay | Australia | 03:36:07 |
Honda Half Marathon Men Open
| | | | |
| --- | --- | --- | --- |
| Position | Name | Country | Time |
| 1st | Berbard Mwendia Muthoni | Kenya | 01:07:26 |
| 2nd | Peter Keter | Kenya | 01:07:45 |
| 3rd | James Munyi Maregu | Kenya | 01:08:18 |
 Honda Half Marathon Women Open
| | | | |
| --- | --- | --- | --- |
| Position | Name | Country | Time |
| 1st | Ann Mukuhi Njihia | Kenya | 01:17:04 |
| 2nd | Jackline Musyawa Nzivo | Kenya | 01:19:03 |
| 3rd | Viola Jelagat | Kenya | 01:19:27 |
Honda Half Marathon Men Veteran
| | | | |
| --- | --- | --- | --- |
| Position | Name | Country | Time |
| 1st | Baskaran Kuppusamy | Malaysia | 01:21:23 |
| 2nd | Khir Bin Salleh | Malaysia | 01:24:30 |
| 3rd | Fung Sze Yuen Michael | Hong Kong | 01:29:31 |
Honda Half Marathon Women Veteran
| | | | |
| --- | --- | --- | --- |
| Position | Name | Country | Time |
| 1st | Emer | United Kingdom | 01:38:17 |
| 2nd | Rachel Ellen Pepper | New Zealand | 01:41:37 |
| 3rd | Lee Khum Chiew | Malaysia | 01:48:15 |
MSIG Ekiden
| | | | |
| --- | --- | --- | --- |
| Position | Name | Country | Time |
| 1st | Ekiden – New Balance | Malaysia | 01:00:30 |
| 2nd | Skechers Malaysia | Malaysia | 01:01:26 |
| 3rd | Pacemakers Malaysia | Malaysia | 01:11:20 |
10km Speed Men Open
| | | | |
| --- | --- | --- | --- |
| Position | Name | Country | Time |
| 1st | Kawarai Tsukasa | Japan | 00:34:00 |
| 2nd | Koech Walter Kiptanui | Kenya | 00:34:36 |
| 3rd | Simion Kipkorir Ruto | Kenya | 00:35:27 |
10km Speed Women Open
| | | | |
| --- | --- | --- | --- |
| Position | Name | Country | Time |
| 1st | Carolyne Chepkwony | Kenya | 00:39:33 |
| 2nd | Lim Hooi Kheng | Malaysia | 00:49:19 |
| 3rd | Michelle Anne C. Tibagacay | Philippines | 00:49:58 |
10km Speed Men Veteran
| | | | |
| --- | --- | --- | --- |
| Position | Name | Country | Time |
| 1st | Lim Khon Seng; Casey | Malaysia | 00:41:04 |
| 2nd | Ramakrishnan Manikam | Malaysia | 00:41:55 |
| 3rd | Ong Chin | Malaysia | 00:42:28 |
10km Speed Women Veteran
| | | | |
| --- | --- | --- | --- |
| Position | Name | Country | Time |
| 1st | Chong Ah Tin | Malaysia | 00:50:59 |
| 2nd | Lai Yook Ching | Malaysia | 00:53:25 |
| 3rd | Tsukagoshi Akiko | Japan | 00:56:03 |
Corporate Challenge
| | | | |
| --- | --- | --- | --- |
| Position | Name | Country | Time |
| 1st | Telekom Malaysia Berhad | Malaysia | 02:34:14 |
| 2nd | PETRONAS Chemicals Group Sdn | Malaysia | 03:18:08 |
| 3rd | GENTING MALAYSIA BERHAD | Malaysia | 03:24:25 |
Ministries Challenge
| | | | |
| --- | --- | --- | --- |
| Position | Name | Country | Time |
| 1st | JABATAN IMIGRESEN MALAYSIA | Malaysia | 03:28:06 |
| 2nd | BNM | Malaysia | 03:30:12 |
| 3rd | Economic Planning Unit | Malaysia | 03:31:31 |
Universities Challenge
| | | | |
| --- | --- | --- | --- |
| Position | Name | Country | Time |
| 1st | Kolej Tunku Abdul Rahman KL | Malaysia | 02:12:41 |
| 2nd | MethodistCollegeKuala Lumpur | Malaysia | 02:30:49 |
| 3rd | UNIVERSITI MALAYSIA PERLIS | Malaysia | 02:53:45 |