GLC's ordered to advertise more in Utusan Malaysia

Utusan once again made headlines in the country when Deputy Finance Ministers Ahmad Maslan was reported to have instructed top GLC's to advertise more in the Malay language daily newspaper particularly the UMNO-owned Utusan and Berita Harian.
Maslan, also to be said has written several letters to the chairpersons of the GLC's to spend more of their advertisement budget in the newspapers.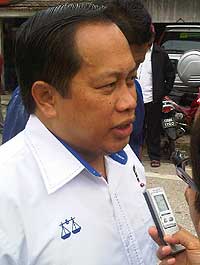 A similar call also has been made by Prime Minister on 13 September 2013 to advertise more in Utusan Malaysia.
This has seen as a blatant directive measure by the politicians in their desperate attempts to bail out the dying newspaper who known to be biased and pro- UMNO and the government.
Because of its several false reporting and lack of responsible journalism, it was reported that Utusan Group debts has a massive amount up to RM 20 million.
For record, the circulation of Utusan Malaysia in the whole nation has been dropping consistently from the height of 350,000 a day to 178,000 a day in December 2012. The trend continues as circulation of the newspaper keeps dropping until 2013.
The massive debt has been accumulated years after many different lawsuits against them particularly from opposition politicians and member of Parliaments.
The most recent one was in July, when the Kuala Lumpur High Court has awarded the former Menteri Besar of Perak Datuk Seri Mohammad Nizar a sum of RM 200,000 in damages in his suits against Utusan over the WWW1 car registration number issue. In his statement of claim, Nizar has told the court that the defendant had implied him had tried to incite the people to hate the Sultan of Johor.
According to Sim Tze Tzin, the MP of Bayan Baru, in his press conference, the call by Ahmad Maslan has compromised the public interest by confusing his role as UMNO publicity chief with his role as a deputy minister. As a deputy minister he should always remember that his roles in the government are given by the people who have trust on him and he should always put all Malaysian interest first.
Sim also stated that GLC's should exercise independent and careful spending. The decision to advertise or not in Utusan or any other newspaper should be decided professionally. GLC's should not succumb to political pressure and do something that is against their business principles.
"The mandate of GLC's is to safeguard the nation's interest not UMNO's interest "added Sim.
Since the take over by UMNO in the 1960s, the newspaper has lost its integrity and credibility because of its complicated relationship with the governing political party.
Despite strong protest against the takeover, Utusan has been successfully used by UMNO to help in its political propaganda and silencing its political adversary.