Penang church reaches out to Typhoon Haiyan victims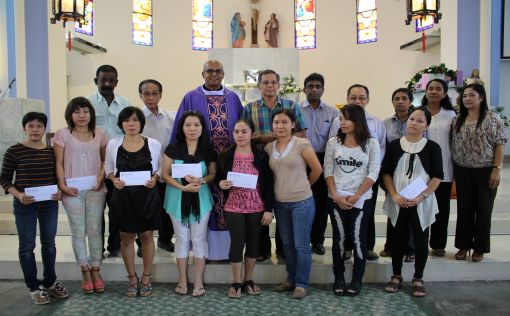 City Parish, Penang took the time recently to reach out in aid to the victims affected by the disastrous Typhoon Haiyan which crashed across the central islands of the Philippines.
The aid were distributed through direct donations to individuals who were affected by the tragedy.
The donations were received from the churches Sunday Mass collections and also collections from some generous  individuals.
A total of RM26,000 were collected and distributed to 11 Philippine nationals who responded to the call by Fr Dominic Santhiyagu, the parish priest after he has made the announcement during the Tagalog language mass of a cash aid to those who are affected by the typhoon.
Those whose houses were totally damaged received RM2600 each, while those whose house were partly damaged, received RM1000 each.
Members of the parish Finance Committee presented the cash donations in a ceremony which was held at the Church of Our Lady of Sorrows on 1 Dec 2013 during the Tagalog language mass.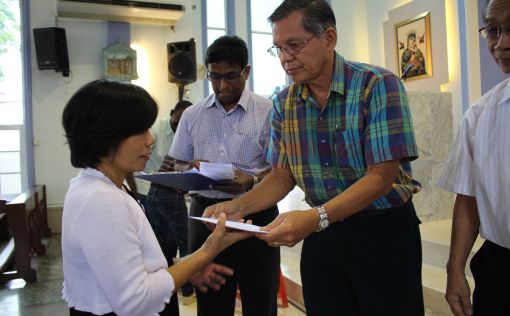 One of the recipient of the cash aid was 44 year old Nilda Bernal Nafiab, who has been working as a domestic helper for five years in Penang. She has a son and two grandchildren who are staying with her mother in Tacoblan, Philippine. The house where they were  staying in was totally destroyed and is in need of re-building. Her mother is currently staying with her brother and three other siblings who whose house was also partly damaged.
She hope that the generous donations from the parish would help her family in paying for their food and medical expenses.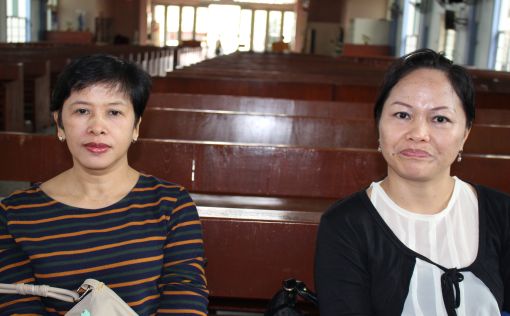 Pacita Esplanada, 52, domestic helper for nine years, said that her hometown in Burauen was hit worst than Tacoblan city as 90% of the houses in Barauen were totally wiped out. The roof of her house was totally destroyed. She has two children who are now staying with her parents.
Both Nilda and Pacita were very grateful to Fr Dominic and the parish for their generous donations, which brings a much needed relief to them and their families.
For more information regarding the City Parish, Penang please visit http://cityppg.wordpress.com