Volunteers make strangers smile with their random acts of kindness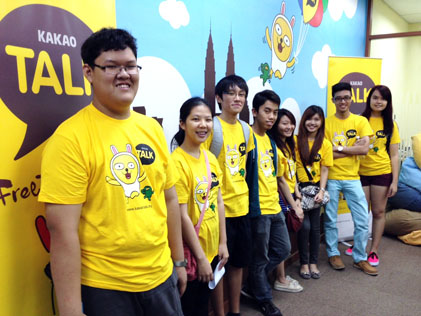 Eight secondary school and university students spent Saturday afternoon Dec 14, 2013 making someone's day with their random acts of kindness at Berjaya Times Square shopping complex and surrounding Bukit Bintang/Imbi areas in Kuala Lumpur.
The volunteers were taking part in Acts of Kindness Scavenger Hunt organised by KakaoTalk Malaysia, a mobile application services provider to spread positivity and promote kindness especially among the youth in the community.
"The objective of the event is to instill values in our youth and to make them practice kindness and get use to it," said KakaoTalk Malaysia communications executive Natalie Chai to Citizen Journalists Malaysia (CJMY).
"We are a telecommunication company and we have not officially launch our product yet, only next year but right now we are doing small charity on a small scale event by giving back and doing it in a way more about communicating talk and communicating kindness and everything," added Chai.
Chai said that Malaysians were generally shy to convey their thoughts and feelings.
"They see this lady and wish they could help her out but the thought about strangers and people they don't know make them feel unsure so better not be busybody.
"So we really try to make them go out there with this activity. If they find there is a cause to do it, then they will do it.
"They actually get to feel how good it feels to actually do such kindness to strangers and see people smile so I guess it is one way to give them a good head start," said Chai.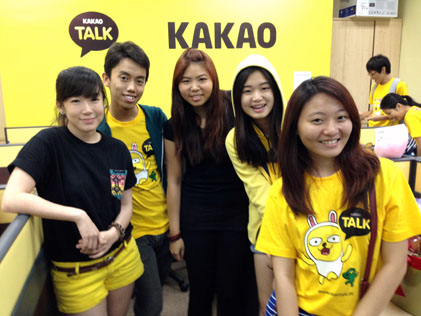 Each volunteer was given a pocket money of RM15 by KakaoTalk to execute the acts.
The group broke up into two teams of four each and went around doing kind acts for others and helping to create kindness aware.
Among the acts of kindness done randomly by the volunteers were offering lollipops to strangers with a note attached to encourage kindness, giving free hugs, offering to take shopping cart back to its place for shoppers and giving senior citizens a flower with an encouragement note attached.
Other acts done included offering to help strangers take a photo for them, buying a homeless person a proper meal and offering to hold the door for customers in a store and buying a barefoot homeless person a pair of slippers.
Uniten Putrajaya university student Izzuddin Yaacob, 21, who found out about the event at [email protected] said he enjoyed doing all the thoughtful things to strangers and seeing the smiles on their faces.
Ang Chee Poh, 17, a student of SMK Taman Sea said he found out about the event from his friend and immediately volunteered his service.
"I find it interesting and challenging having to approach strangers to express kindness. They help me to improve self-confidence," he said.
Another SMK Taman SEA student Tan Xiu Ling, 17, said she felt happy making someone's day by doing something caring for people.
Chris Leong, 17, a student of SMK Damansara Jaya said he liked the idea because they help to promote kindness and generousity among the people.