Assemblyman Lau Weng San hands out calendars with new year wish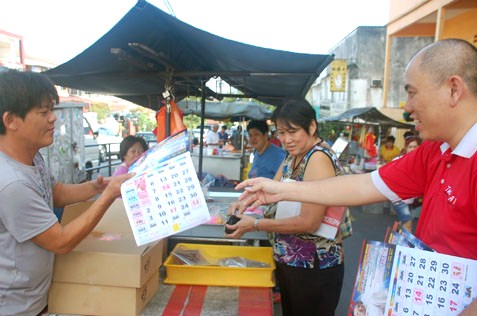 Petaling Jaya's Kampung Tunku state assemblyman Lau Weng San handed out calendars to market traders, food stall holders, shopkeepers and patrons in his constituency in Section 21 Sea Park on the first day of New Year 2014.
About 300 copies of 2014 calendar were distributed in the commercial area of Sea Park.
The people are happy with the calendar, saying that it carries the address and contact numbers of ADUN Kampung Tunku service centre, and a picture of their wakil rakyat (people's representative) as well as his facebook, twitter, website and email address.
During his morning rounds, Lau sent his best wishes to the people to look forward to 2014 with great hope.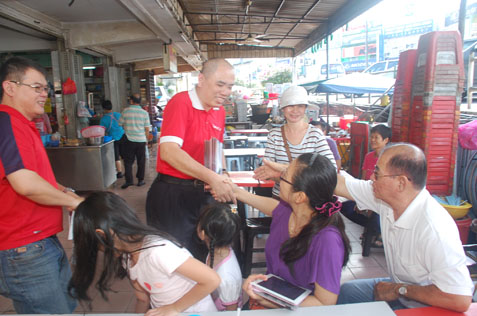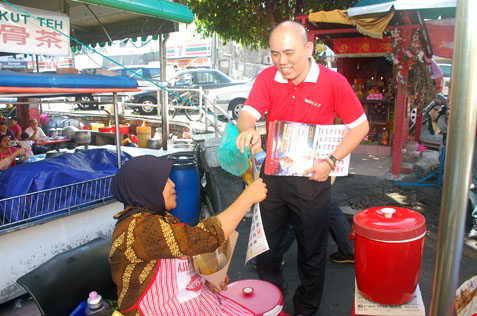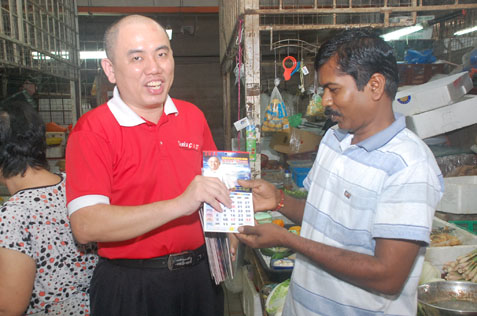 Citizen Journalists Malaysia (CJMY) asked Lau, a state assemblyman since 2008, in an interview what he thought he had served the constituents well on the year gone by and what he has for 2014.
"In 2013 and 2012 I had actually spent a huge amount of my allocation on upgrading basic infrastructures in SEA Park and Paramount Garden areas.
"The roads have been resurfaced. You don't see any more potholes nowadays, maybe some but not serious as this time.
"As I see it, the roads and drains in SEA Park are now among the top notch in Petaling Jaya. This is something I think we can be proud of," said Lau.
The roads and back lanes in Sea Park commercial areas especially near the market were resurfaced since last year.
"We will continue to do resurfacing works and replacing damaged drains but more attention will be focused on the back lanes where the roads and drains are mostly damaged, cracked or broken.
"It is work-in-progress and this is where we will be focusing more in 2014," added Lau.
Lau said that it costs a lot more and takes a lot more time and effort to repair a drain as compared to a road on the same length but they are doing it bit by bit in resurfacing the roads and repairing the drains on the back lanes.
On residents safety and security issues which he received, Lau said, "I will continue to pay more attention by engaging the local police and authorities in finding better ways for solving them."
"We have brighten up the whole stretch of Jalan 20/16A which was previously without street lights and reeled in darkness. This has helped to allay the residents' safety concerns.
Jalan 20/16A has now been installed with about 10 LED street lights funded by MBPJ with electricity supply by Tenaga Nasional Berhad (TNB).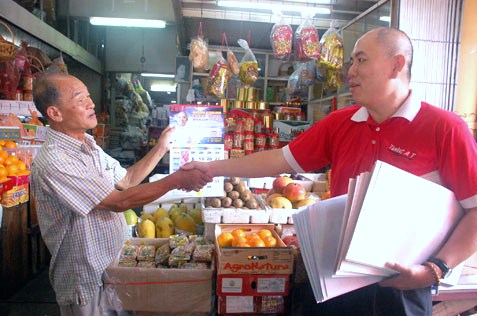 On the proposed setting up of in-house garbage collection team by Petaling Jaya City Council (MBPJ) and doing away with private garbage collection contractors, Lau said he had not been briefed yet on the current status by MBPJ on the project which was supposed to kick-off in 2014.
In the meantime, he said MBPJ is still engaging garbage collection contractors to collect the waste daily.
"Those garbage collection contractors that are not performing will be replaced. We will keep only those whose works are satisfactory. Hopefully things are improving," said Lau.