Malaysia's longest drangon dance awes the crowd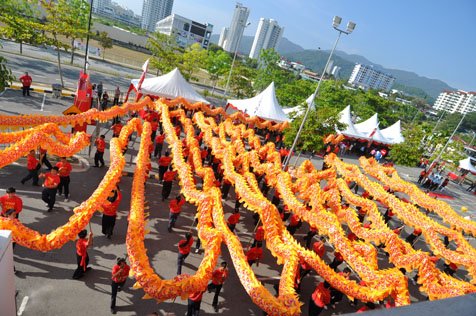 The longest dragon dance performance on record in Malaysia took place at the open-air car park of Tesco Tanjung Pinang store in Penang on Jan 23, 2014.
The dragon, which was commissioned by Tesco Malaysia to usher in the Chinese New Year, measures a total length of 888 ft. (270 metres).
The Malaysia record-breaking event, officiated by Penang Governor Tun Dr Abdul Rahman Abbas saw the grand parade led by drummer bands, 45 kids from the Handicapped Children's Centre Penang and a 150-youth troupe from Malaysia Ching Xing Sports and Cultural Centre and Han Chiang High School (Penang) synchronising their movements to the dragon dance.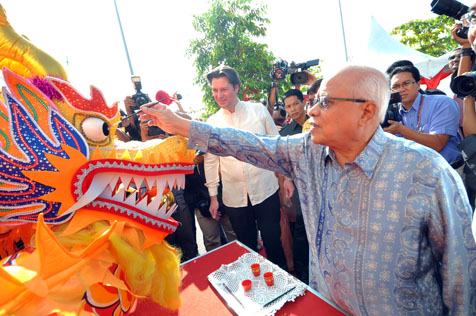 The dragon danced gracefully in front of a crowd of over 1,000 people who were in awe and amazed by the dragon movements and formations with perfect coordination and synchronisation amidst the rhythmic beating of drum, gong and the clashing of cymbals.
Malaysia Book of Records officials who were in attendance measured the Tesco dragon and marked its official stamp of recognition on the dragon certifying Tesco's new record breaking entry into the Malaysia Book of Records.
The event saw the spirit of solidarity and goodwill in the community as well as respect for one another which exemplifies the 1Malaysia spirit and attracted many foreign tourists, in line with Visit Malaysia Year 2014.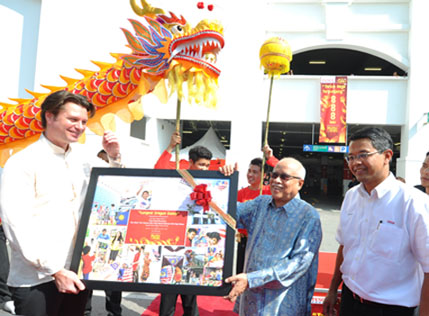 Tesco Malaysia CEO Georg Fischer who was present at the event said, "Tesco is very pleased to usher in the Chinese New Year of the Horse with our Ong Mali campaign that can be related to all as "Prosperity has Arrived" at Tesco.
"We are very happy to celebrate Chinese New Year and share the joy of the festivities with all of you in Penang.
"We are glad to have connected and worked together with the community on this grand scale to bring everyone here the record breaking longest dragon dance in Malaysia."
Ong Mali is a month-long Chinese New Year campaign by the hypermarket chain that was launched on Jan 7, to offer great promos and rewards, exciting events and to help the underprivileged during the festive season.