DACUM TVET 2014 aims to create technically skilled workforce in Sarawak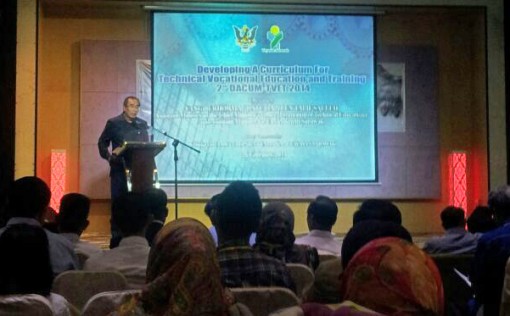 The 2nd Developing A Curriculum for Technical Vocational Education and Training (DACUM TVET) 2014 kicked off in Miri on the 26 Feb 2014 with the objective to get the industries and institutions of higher learning to interact with each other and work to meet the demand of the industries.
In line with government initiatives, the event  focused on ways in which institutions of higher learning will be able to create a workforce which is highly trained with vocational skills, to meet the current requirement of the oil and gas industries.
The three days session was officiated by YB Datu Haji Len Talif Salleh the Assistant Minister in The Chief Minister's Office and Assistant Minister for Environment Sarawak and is was jointly organized by the Sarawak Government and the Yayasan Sarawak, and facilitated by Curtain University and Open University.
YBhg Datu Haji Mohamad Abu Bakar Marzuki the Director of Sarawak Foundation in his welcoming speech emphasized on the importance of creating effective curriculum's which will provide better work opportunities in the oil and gas sector especially for the coming generations.
Tabung Ekonomi Gagasan Anak Bumiputera Sarawak (TEGAS) has been entrusted by the Sarawak government to cooperate with the private sectors and look into the current 'mismatch' and provide a solution by developing the technical aspect of the education which will meet the demand of the industry.