Parents worry for safety of students over abandoned school project
The persistent problem of abandoned projects which is normally only faced by national type schools (SJK) now seems to make way towards national types schools as well with the Sekolah Kebangsaan Batu Tiga, Klang's toilet project being abandoned since  January 2013.
According to Sekolah Kebangsaan Batu Tiga Parent-Teacher Association (PTA) committee member Mr Kovan, the project which commenced in May 2012 was supposed to be due on 30th January 2013.  Since then only sub contractors are seen to be entering the site once a month while  main contractor of said project Competitive Heritage Sdn Bhd have not been seen ever since.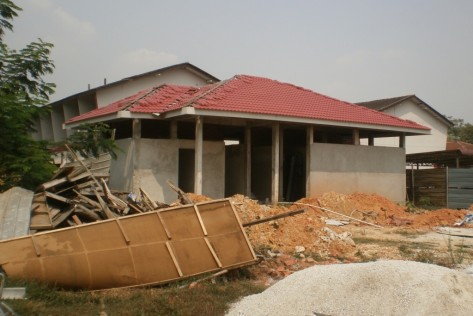 The school premise which is shared by both Sekolah Kebangsaan (1) and Sekolah Kebangsaan (2) have some 550 pupils which  includes a preschool as well.
Parents who send their children to the schools are concerned for their safety as students are face the risk of hazardous exposure from the abandoned surrounding areas since no precautionary measures has been taken by either contractors or by sub contractors.
To make matters worse the project is located near to the school field and sports equipment store. Concerned parents raised the issue during the recently held PTA annual general meeting held on  22 February 2014.
Mr Kovan further added that the school desperately needs additional rooms to cater for growing demand in the school but the PTA will only be able to consider the request after completion of abandoned toilet project by Ministry of Education.
He hopes that Ministry of Education will seriously look into the matter soonest possible.
_________________________
All posted news on this website are written by ordinary citizens who were trained by CJMY. If you would like to contribute articles or videos of events that are happening in your community, please (CLICK HERE)
_________________________
For more updates, please like us on Facebook , and subscribe to our Newsletters