Stewardess won the Unduk Ngadau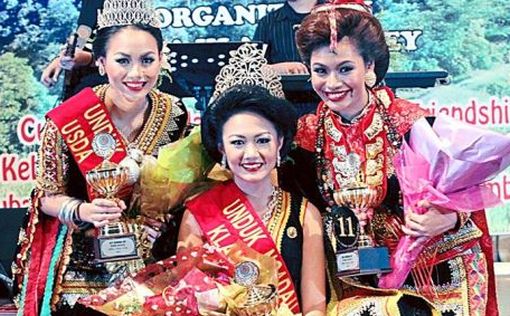 Flight attendant Maylesthelyn Ley Matius was head over heels last Saturday as she had won the Unduk Ngadau (Harvest Festival Beauty Contest) which was held by the Klang Valley Kadazandusun Cultural Association (KDCA).
At the age of 24, she bedazzled the jury and the crowd with her set of confidence and is ready to stand for Klang Valley KDCA in the national levels Unduk Ngadau pageant in Sabah.
Maylesthelyn had also won RM 1,600 cash and a return air travel ticket from Kuala Lumpur to Bali.
The first runner up was Shellenni Madawal. She is currently completing her studies in UiTM.
The second runner up was Cassandra Devi Jeremiah,21 a student from Universiti Malaya.
The Unduk Ngadau was one of the main attraction during the Kaamatan festival which was help at Flamingo Hotel, Ampang with the attendence of 300 people.
The theme of the celebration was "culture foundation of peace and friendship", noted their 19th year and was launched by Water Minister Datuk Seri Dr Maximus Ongkili and Energy, Green Technology.
Ongkili had socialized with the audience and sang two songs.
He added a perfromance known as the sumazau to entertain the crowd.
"Kaamatan festival has been our annual event for the past 19 years and chipped in uniting the people.
"KDCA doesn't only serve as a platform for Sabahan's in the Klang Valley to rejoice Kaamatan, it also helps the needy," said Maximus, the association's adviser.
During the sugandoi (singing) contest, physiotherapist Becker Ray Benedict serenaded the judges to defeat five others and win.
Nor Saleha Laila Nasimin had finished second while Marrysia Jrenues, 25 settled for third placing.
Next year marks the 20th Anniversary of Kaamatan celebrations for KDCA and their president Datuk Richard Bainun had already been looking forward for that celebrations and wished to make in grandeur.
"Although we are miles apart from our mother land and we only meet once per year, we notice that everybody is happy in meeting up and enjoying during the festival.
"Kaamatan gives us superiority. Our love for our culture is not forgotten and we are grateful for the legend that is Kaamatan. Optimistically, our culture would not fade and i wish our future generations will appreciate our tradition and beliefs in time to come," said Bainun.
_________________________
All news posted on this website are written by Malaysians from all walks of life who are trained by Citizen Journalist Malaysia. If you are passionate about writing, photography or  video storytelling and would like to contribute your articles, photographs or videos of events that is happening in your community, please (CLICK HERE)
_________________________
For more updates, please like us on Facebook