Random shooting spree in Ipoh remains a mystery
Police have been alerted by road users in Ipoh recently on what is believed to be a new 'robbery trick'.
A series of point blank shooting has been accuring of late, aimed at stationed vehicles at Jalan Pasir Puteh traffic light (near Aeon Station 18).
It is also believed that the suspect is using a high pressure BB gun with metal bullets.
In the most recent report, the driver has stated that he heard a loud thud at the driver's side door but the driver did not get down from the car. Later, he found a deep hole penetrated through the door which resulted from the impact of a collision which came from close range.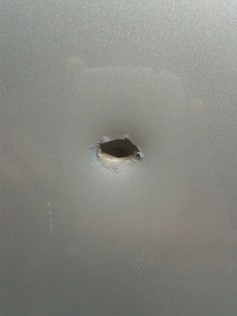 A motorcyclist had also experienced the same incident. Unfortunately, the motorcyclist was shot 3 times on his thigh and leg. A police report and medical check up was made immediately.
Doctors claim that being shot from a short distance could be fatal if the bullet hits in the eye or the ear.
According to the police, they have already received 5 reports this month where the victims were randomly shot at. They have targeted immobile cars and motorcyclist, particularly at two main areas which are Pengkalan and Menglembu.
One fatality reported that a victim had his finger shot, broken and had to undergo surgery. Another stated it penetrated into the flesh and tore his ear.
________________________________
All news posted on this website are written by Malaysians from all walks of life who are trained by Citizen Journalist Malaysia. If you are passionate about writing, photography or  video storytelling and would like to contribute your articles, photographs or videos of events that is happening in your community, please (CLICK HERE)
________________________________
For more updates, please like us on Facebook