Police urge public to join Road Safety Awareness Campaign in Muar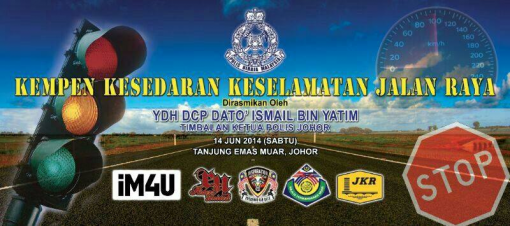 The public is invited to enliven the Road Safety Awareness Campaign organized by the Bukit Aman Traffic Branch and iM4U, Riders United (RU) and Inspiration Motorsport Club (1MC).
The details of the event are as follows:
Date : 14th June 2014 (Saturday)
Time : 7.30am until 5.00pm
Place : Dataran Tanjung Emas, Muar Johor
There will be other activities during the campaign such as motorcycle convoy, exhibitions, aerobics and motoring clinic.
Come and join the programme and also stand a chance to win exciting prizes.
________________________________
All news posted on this website are written by Malaysians from all walks of life who are trained by Citizen Journalist Malaysia. If you are passionate about writing, photography or  video storytelling and would like to contribute your articles, photographs or videos of events that is happening in your community, please (CLICK HERE)
________________________________
For more updates, please like us on Facebook