World Cup fever at PJ Old Trafford @ Mayang Oasis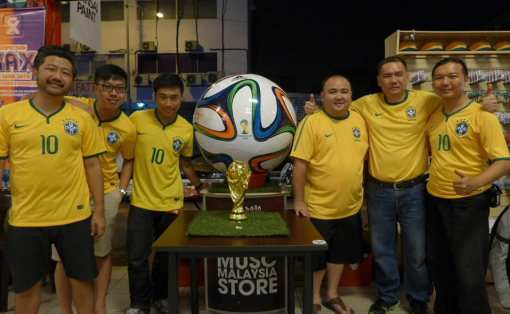 World Cup galore as PJ Old Trafford @ Mayang Oasis gets set for an experience of a lifetime.
The place has been decorated to sooth the mood of the World Cup 2014. With flags and banners everywhere, it is the ideal environment to watch all the matches.
"The decorations are to attract more customers and sponsors as well. We would want people to remember the place. The main goal is the impact of the image we have and also to promote MUSC Malaysia," said David Tan Meng Jeat, Deputy Secretary of MUSC Malaysia.
When asked if by doing this would it attract more customers, he said "Definitely".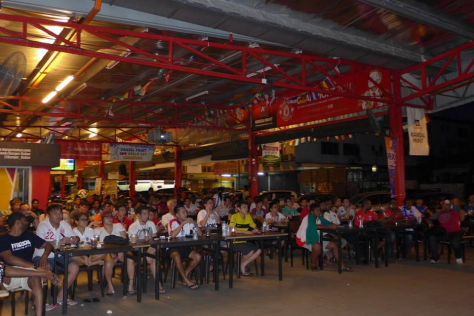 They will also be having an open store in collaboration with Sheldonet. Official World Cup merchandises will be sold there. A carnival will be held which is The Kansai Paint 2014 WORLD CUP CARNIVAL. Playstation3 FIFA World Cup tournaments and lucky draws will be organised and you can stand a chance to win promotional items.
For example, when purchasing a minimum of RM10 on food and drinks, a box of cigarettes and beer, you are entitled to a lucky draw coupon. The reason behind this is that you get value for your money when you buy food and beverages compared to other places.
"I support Netherlands. They are going to win the World Cup," said David.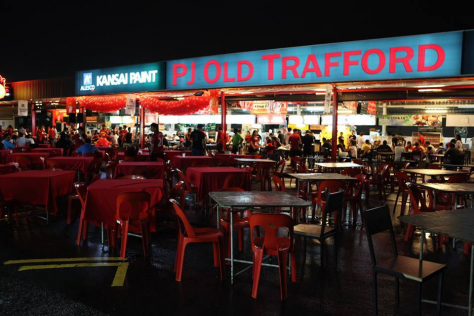 There will be no changes in prices during this period. Everything will be maintained as normal.
The place consists of 1 Big Screen which is projected by a HD projector that is the biggest in Selangor and also 12 50inch HD televisions. All matches are crystal clear in full HD.
There wouldn't be any special cuisines or beverages in conjunction with the World Cup. Probably only one or two like a mojito or a World Cup burger. The reason being so is that they do not want selective customers. Everyday shops that are open will resume business such as Mexican food, Japanese, Nasi Lemak, Western, Thai and Burger Kaw Kaw. They are all pork free.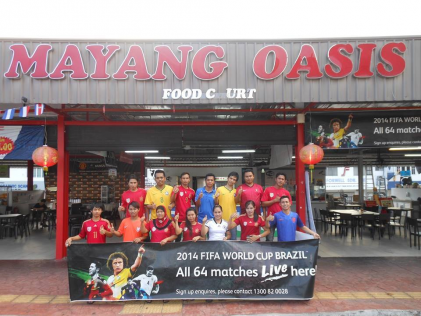 And to top it all off, they also have a great shisha joint called Mayang the Shisha Shop. This is no ordinary shisha as it comes with a special 'Booster' which enhances your shisha experience. The flavours contain no tobacco and nicotine and it is imported from the US.
MUSC Malaysia is expecting the biggest event in Kuala Lumpur-Selangor as they host the Grand Final Match View of the World Cup. It will be screened via a 2xGiant HD Screen on 13 July 2014 with expectance of an audience of 1,200 people which begins 10pm onwards.
They are sponsored by Kansai Paint Malaysia, Adidas Malaysia, F&N Beverages Marketing, Guiness Anchor Berhad, British American Tobacco and soon to be by Castrol and Celcom.
________________________________
All news posted on this website are written by Malaysians from all walks of life who are trained by Citizen Journalist Malaysia. If you are passionate about writing, photography or  video storytelling and would like to contribute your articles, photographs or videos of events that is happening in your community, please (CLICK HERE)
________________________________
For more updates, please like us on Facebook