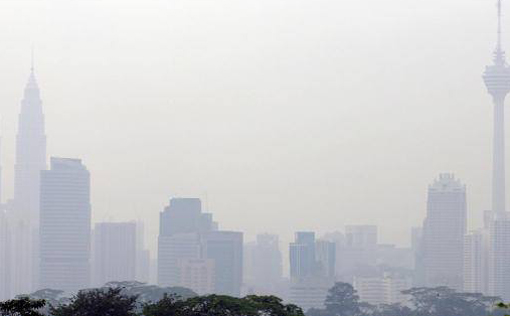 The days of limited visibility, eye and throat irritations, air smelling like burning wood, and a constant feeling of heavy, thick, choking, putrid breeze filing the air is back.
As of yesterday, the Air Pollutants Index (API) has been on constant rise throughout the country.
Port Klang recorded the highest API with a reading of 102 and Kampung Air Putih, Taiping came in second with a reading of 98, according to the Department of Environment's website, yesterday.
Only Sabah and Sarawak recorded good air pollutant readings of below 50, with the exception of Samarahan.
An API reading of between 0 and 50 is considered good; 51 to 100, moderate; 101 to 200, unhealthy; 201 to 300, very unhealthy; and 301 and above, hazardous.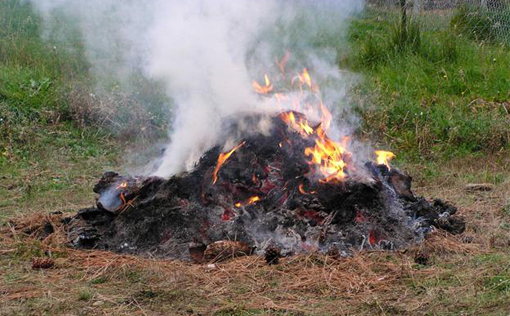 Last year, the API readings in Muar and Ledang crossed 300, prompting Putrajaya to declare state of emergency.
The highest API reading ever recorded in Malaysia was in Muar, when it was recorded at 860 in 1997.
Health advisory
Exposure to haze may cause a variety of adverse health effects, said the health advisory during haze, which has been released by Ministry of Health.
According to the advisory, the small particles that cause haze are composed of microscopic solids or liquid droplets that are so small that they can get deep into the lungs and cause serious health problems.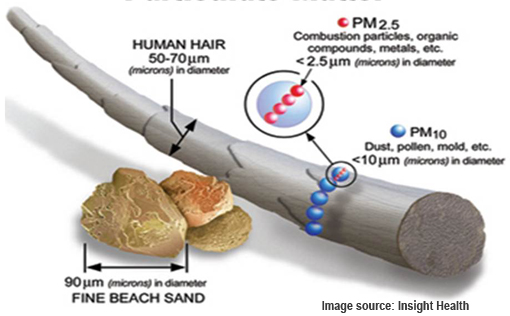 The advisory also listed short-term adverse effects of exposure to haze, such as eye irritation, watering eyes, and/or conjunctivitis (a type of eye inflammation).
Running nose, stuffy nose, sneezing, and/or post-nasal drip, throat irritation, dry throat, sore throat and/or coughing, phlegm also listed as a short term effects.
Other symptoms listed are headache, dizziness, fatigue, stress, decreased lung function, depressed respiratory immune defences, chest tightness, chest pain, shortness of breath, and bronchitis (lung inflammation).
These symptoms are usually mild and will subside if exposure to haze is limited by staying indoors. However, individuals which are suffering from chronic diseases, especially respiratory and heart disease, may see their condition worsened by haze and are more likely to experience more severe haze-related effects than healthy people.
General Measures at the Workplace
In order to minimise the effects of haze, the Health Ministry also lists the following measures;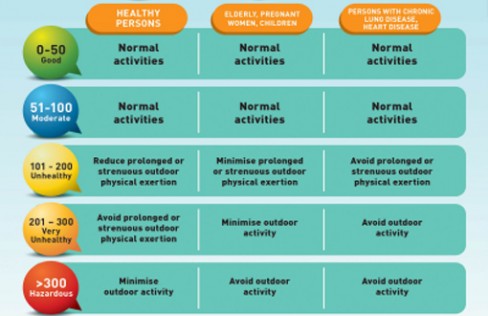 1. Minimize outdoor activities.
2. Drink a lot of water (no, not tea and coffee)
3. Close all windows, doors and any openings that may allow haze to enter the workplace or home.
4. Turn on the air conditioner if available. Ensure adequate ventilation in the closed room.
5. Create awareness on health hazards on haze.
6. Use respirators when going outdoors.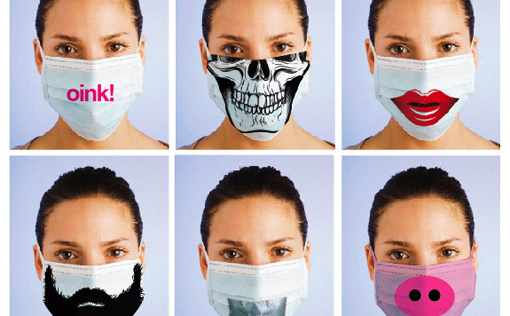 It also will be useful for everyone to extra vigilant and start paying more attention to API updates. Authorities normally, will give out instructions in the form of advisories based on the latest API reading. Here are some websites to check regularly for updates.
1. Department of Environment, Malaysia
2. Ministry of Health, Malaysia
3. National Environment Agency, Singapore
Related stories:
Haze: Air condition deteriorates in most areas
Haze: Improved API reading brings hope for a clearer sky in coming days
Georgetown disappears under haze
Malaysians urged to stay indoors, haze at unhealthy level
________________________________
All news posted on this website are written by Malaysians from all walks of life who are trained by Citizen Journalist Malaysia. If you are passionate about writing, photography or  video storytelling and would like to contribute your articles, photographs or videos of events that is happening in your community, please (CLICK HERE)
________________________________
For more updates, please like us on Facebook