Bus driver drove straight into a monsoon drain in Perai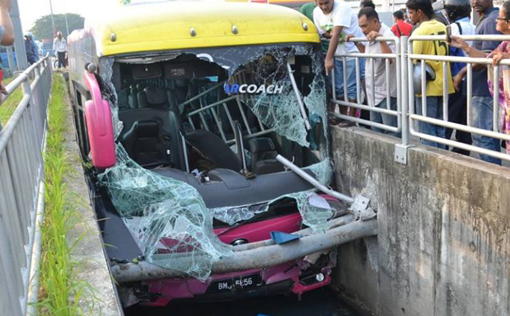 A bus driver of an express bus carrying seven passengers from Malacca to Kangar, drove straight into a monsoon drain near  Taman Chai Leng, Jalan Baru Perai, Perai early this morning.
The incident which occurred at 6 a.m had seen the bus driver and 7 passengers escaping by smashing the front windshield of the bus.
They were all reported safe and unharmed.
The bus, which was believed manoeuvred to avoid another vehicle, collided with the safety dividers along the road and landed perfectly into the monsoon drain.
The way the bus fitted perfectly into the drain attracted curious onlookers during the early morning rush hour traffic.
According to police four people, including the driver, sustained minor injuries  and received treatment at the Seberang Jaya Hospital.