Felda Global Ventures awards scholarships to SPM students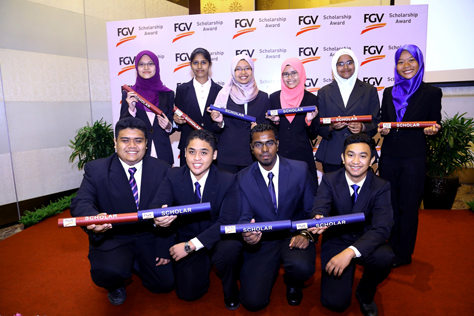 Felda Global Ventures Holdings Berhad (FGV), a globally-integrated, diversified agri-commodities company, awarded full scholarships to 10 students who obtained 9As in their SPM examination to pursue their studies at top UK universities.
They were selected out of 2,583 applications received through the FGV Online Scholarship Application System via the company's website and after having gone through the entire interview process that included verbal and numerical assessment, group discussion, presentation and final interview.
FGV chairman Tan Sri Mohd Isa Abdul Samad handed out the awards to the recipients at an awards presentation ceremony at Menara Felda in Kuala Lumpur on June 25, 2014.
"We nurture the scholars with programs to develop them professionally and personally for a rewarding career with the FGV Group.
"FGV is rapidly progressing and we want our scholars to be part of the manpower team propelling the company to become a leader in the global agribusiness," he said.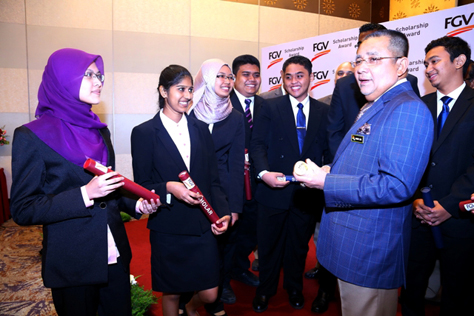 The scholarship covers the financial support such as tuition fees, books, living and clothing allowances for the scholars.
The scholars will study for two years for the A-Level program at Kolej Yayasan UEM at Lembah Beringin in Tanjung Malim, Perak before applying for placements at top universities in the UK.
They will pursue their bachelor degrees in related disciplines such as biotechnology, engineering, accounting and finance.
The annual FGV Scholarship Awards is part of the group's commitment in supporting the country's human capital development as well as enabling high achiever students to pursue their academic ambition.
Since the program's inception in 2006, it has realised the academic dreams of 50 scholars. To date, it involved a total budget of RM25 million. For this year it has allocated RM7 million for the ten recipients.
Twelve FGV scholars who have graduated are currently serving the FGV Group.