McDonalds boycott rally turns rowdy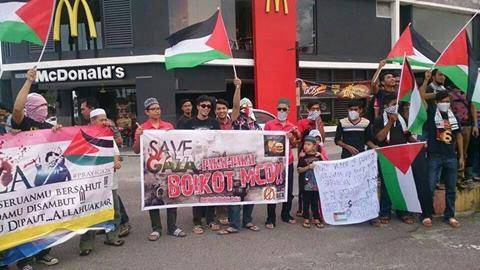 Protesters outside McDonald's outlet in Dungun, Terengganu started throwing objects and rattling the doors of the premise during the worldwide "Boycott Israel" protest campaign.
The violence by the group has been criticized by a Pro-Palestinian NGO's and netizens alike as opposing the law and teachings of Islam.
"Consumers have every right to boycott and put pressure but it is very inappropriate in using physical or verbal actions to scare or harm the premises physically and emotionally," said Aqsa Syarif Berhad chairman Prof Madya Dr Hafidzi Mohd Noor in a statement on its Facebook page.
He also stressed to the public to report such deviant acts to the authorities if they happen again.
In order to prevent repetition of such barbaric acts, the people are discouraged from holding rally and demonstrations at any McDonald's outlets.
Social media users have also joined in to show their outrage at the incident condemning the violent acts as only being able to successfully harass and intimidate Malaysian employees who are trying to make a decent living.
McDonalds Malaysia has placed an ad pleading against the boycott and denying claims against its Israel links on the eve of planned protest on all McDonalds premises nationwide.
The ad highlighted the fact that discrimination against McDonalds employees are only effecting the workers their friends and families who are only trying to make a living. It is reported that 85 percent of their employees are Muslims and the restaurants are operated by 27 local franchises of which half are owned by Malay Muslims.
Franchise owner Syed Hussain Tuan Embong told Sinar Harian that the violent rallies which were held here and also outside the McDonald's outlet in Kerteh has resulted in about 80 per cent loss of revenue.
McDonald's worldwide have been a target of boycotts due to the allegation that they have been funding Zionist concerns in Israel, whose current feud in Gaza have killed thousands of Palestinians claiming the lives of the innocent and young ones.
________________________________
All news posted on this website are written by Malaysians from all walks of life who are trained by Citizen Journalist Malaysia. If you are passionate about writing, photography or  video storytelling and would like to contribute your articles, photographs or videos of events that is happening in your community, please (CLICK HERE)
________________________________
For more updates, please like us on Facebook