Malaysia Supermodel Search 2014 finalists unveiled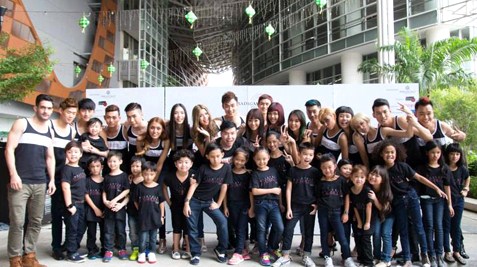 The finalists of Malaysia Supermodel Search 2014 (MSS) were officially revealed at a press conference at SOP Bar & Bistro in Paradigm Mall, Petaling Jaya on August 12, 2014.
They comprised 20 adults (10 each for male & female) and 20 kids (10 each for male and female) with the youngest aged 5 and the oldest aged 26.
The grand finale will take place on November 19 and the winners (one adult female and one adult male) will represent Malaysia at the Asia New Star Model Contest (ANSMC) in Seoul, South Korea on April 2015.
The 40 models were selected after a nationwide search for the next top model with auditions held in Kota Kinabalu, Bintulu, Penang and Kuala Lumpur, as well as applications online.
"Only a model with the entire package of physical attributes, attitude, personality, confidence and a X-factor, who deserves to be called a supermodel, can make an impression to give our country an advantage at the international level," said Amber Chia, Malaysia's supermodel and founder of Amber Chia Academy (ACA).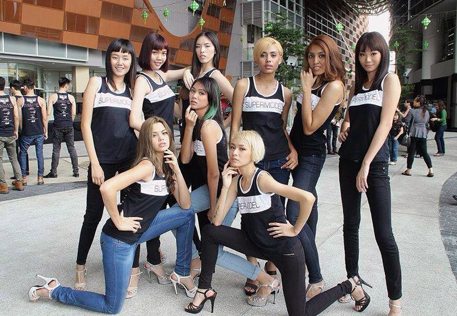 The models paraded on the catwalk in casual wear at the boulevard level of SOP before the public and members of the media.
The Malaysia Supermodel Search is a re-brand and reboot of the competition formerly known as the Asia New Star Model Contest and aims to uncover some of Malaysia's best emerging supermodel.
It is organised by Amber Chia Academy in collaboration with Asia Model Festival Awards, touted as the Academy Awards equivalent.
The winners will be picked by a panel of resident judges, headed by Amber Chia, and include catwalk guru Benjamin Toong and top model Tinie, and headed by Amber Chia.
The prizes include modelling contracts with NOW Model Management Singapore, a Driving Dreams scholarship by KDU University College worth RM50,000, modelling courses from ACA, as well as prizes from sponsors including Gintell, Celebrity Fitness, MIZACH, M.A.C, O'slee and Neubodi.
The winners will also be the 2015 faces of Paradigm Mall and will participate as celebrity models for the upcoming Paradigm Mall Fall/Winter 2014 fashion week.
Malaysia Supermodel Search is an online based reality show. Nine episodes of the MSS competition will be produced and aired on the "Malaysia Supermodel Search" YouTube channel every week beginning from September 23 onwards.
Adults Category
10 Female Finalists
1. Audrey Wong Shi Mei, 20
2. Bella Chee Yuen Chi, 19
3. Ivana Esther Robert Smit, 15
4. Jane Tan Yan Jun, 19
5. Kessyl Lim Tek Iee, 19
6. Nicky Chang Shu Ying, 20
7. Nurul Hazrina binti Sabri, 22
8. Prissha Gerald, 16
9. Selin Chan Nyin Wen, 18
10.Siti Khairunisah binti Abdul Razak, 23

10 Male Finalists
1.  Aaron Hoh Sheng Biao, 18
2.  Abdul Aliff Hafiz bin Abdul Rani, 25
3.  Anson Ang Meng Soong, 24
4.  Jackson Lim Howe Seng, 26
5.  Jacky Nai Yen Chen, 20
6.  Jayden Yen Yoong Cheng, 21
7.  Joseph Oon Zi Yin, 21
8.  Junior Jenos Danny, 24
9.  Ryan Yong Fong Sing, 24
10.Sina Razaghi, 22
Kids Category
10 Female Finalists
1.  Aleesya Marshandha Alias, 5
2.  Althea Tan, 8
3.  Amesha Lynn, 9
4.  Isabelle Claire Fredericks, 7
5.  Jenifer Tan Yi Qian, 9
6.  Nathalia April Demai, 6
7.  Nersha Chang Wei Wei, 11
8.  Nurshafeera Reezlyn binti Shamsul Azhar, 10
9.  Sharifah Destinee Dickerson, 8
10.Sharmaine Yap Sham Min, 8
10 Male Finalists
1.  Abang Muqrif Miqhail bin Abang Daizurif, 11
2.  Aiden Sim Jun Wei, 6
3.  Destin Khoo Jun Hao, 6
4.  Eason Tan Ee Xun, 8
5.  Goh Yu Zhe, 6
6.  Jeremie Kee Zhen Way, 9
7.  Leo Jericho Mahilum, 9
8.  Mohd Adib Syawal, 5
9.  Sean Goh Wen Xuan, 8
10.Vincent Chung Zhi Chen, 6
________________________________
All news posted on this website are written by Malaysians from all walks of life who are trained by Citizen Journalist Malaysia. If you are passionate about writing, photography or  video storytelling and would like to contribute your articles, photographs or videos of events that is happening in your community, please (CLICK HERE)
________________________________
For more updates, please like us on Facebook