Airasia BIG wins regional Loyalty Programme Award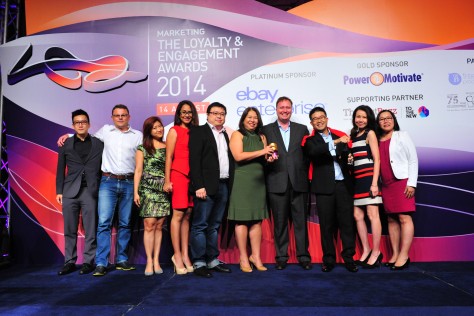 AirAsia BIG scored big as it walked away with a Gold win for Loyalty Programme of the Year, as well as a Bronze for Best Regional Loyalty Marketing Campaign at the prestigious regional Marketing Loyalty & Engagement Awards 2014 in Singapore last night.
Witnessed by a 500-strong crowd at the Shangri-La Hotel Singapore, the global AirAsia BIG Loyalty Programme (BIG) competed with loyalty players from Singapore, Thailand, Indonesia, Cambodia, Laos, Myanmar, Vietnam, Brunei, Malaysia and Philippines.
"It is indeed a great honour to receive recognition as being one of the best in Southeast Asia, especially among top Marketeers of the industry. We are privileged and thankful to all who have supported us and we strive to continue rewarding our loyal customers and being a leader in customer loyalty and engagement initiatives," said Alice Goh, the CEO of AirAsia BIG during the event.
"Bagging the Gold further amplifies our role as the exclusive loyalty programme for AirAsia and brings added value to the airline. Our wins compliments AirAsia, who recently won the 'World's Best Low Cost Airline' and 'Asia's Best Low Cost Airline' at the Skytrax World Airlines Award," added Alice.
Entries were judged based on business performance, contributions to the industry and community at large as well as creativity. The winners were determined by a panel of eighteen senior client marketers from around the region, across various industries including brands such as Procter and Gamble, Standard Chartered, eBay, Intel, Lego and Estee Lauder, all of whom carried years of experience in the marketing and communication fields.
BIG was selected because of its recent rebranding exercise that created a stronger emotional connection between BIG and its members and increased engagement by 12%. Over the campaign period, BIG reached out to almost 28 million people via print, radio and social media, and acquired 30,000 new members.
"Introduced early this year, our new brand approach with the tagline 'Earn BIG Points and fly free' reflects our revived energy and determination, by inspiring new dreams and offering travel opportunities to our BIG members, bringing them closer to friends and relatives," ended Alice.