Dream comes true for Dewi Liana Seriestha to win Miss Malaysia World 2014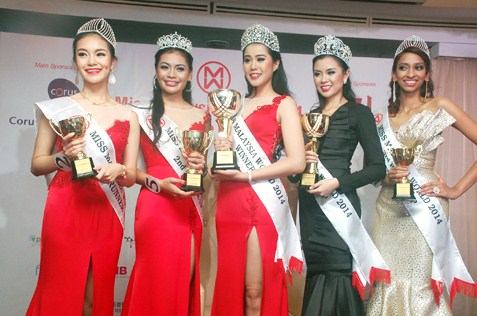 It was a dream that has come true for 24-year old Dewi Liana Seriestha from Kuching, Sarawak who was crowned Miss Malaysia World 2014 at the grand finals at Corus Hotel, Kuala Lumpur on Aug 30, 2014.
The 5' 10" tall leggy beauty came out top beating twenty other finalists to the coveted title and prizes. She was crowned by her predecessor Melinder Bhullar, the Miss Malaysia World 2013.
'It's a dream come true. I am so honoured and I am glad to be the chosen one. I am happy to represent Malaysia and my congrats to the contestants too as they did really well.
"I am proud of myself and I am proud of the contestants too and I want to thank Dato' Anna Lim for giving me this opportunity and I will do my best," said the final year music student of National Arts Academy Kuala Lumpur (Aswara).
She has also won the Miss Talent and Miss Personality subsidiary titles and Miss Dr Alice award.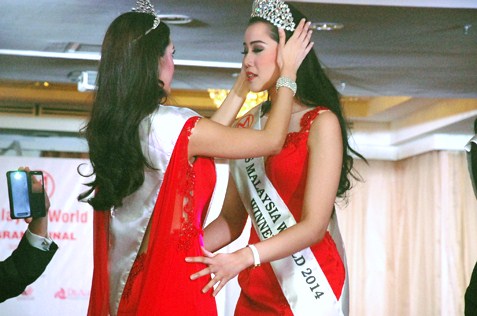 Dewi, a Bidayuh, will represent Malaysia in the 64th annual Miss World international pageant in London in November 2014.
During the Q&A round, Dewi was asked: "Why should you be selected as Miss Malaysia World 2014?"
She candidly answered: "I have a passion in singing and performing. I believe a good musician or a singer can become a good role model to everyone. Winning the Miss Malaysia World title would give me a platform to introduce Malaysian music and of course our unique cultures to the world."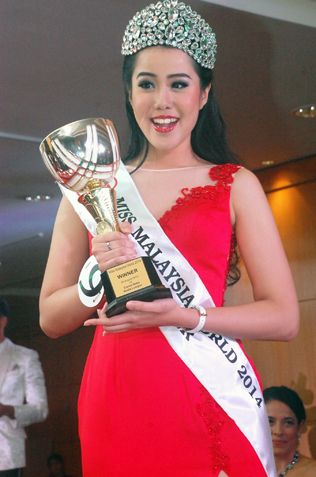 Dewi had returned from Los Angeles last July bringing back five awards she won at the World Championships of Performing Arts (WCOPA) in California, USA.
"I represented Malaysia for singing in the World Championships of Performing Arts and I won five medals," said Dewi.
She had won a Gold medal for Classical Opera, three Silvers for Variety, Pop and R&B, a special industry award and a plaque for Champion of the World. It was a great achievement for her and she has made Malaysia proud.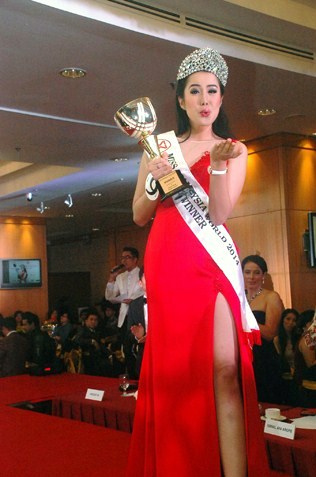 Miss Malaysia World 2014 licensee and pageant organiser Dato' Anna Lim said: "I am proud of her. Hopefully Dewi will go to London just as good and impress all the judges of Miss World and bring back a trophy or be placed among the top 10.
"She will leave for London by 14 Nov this year and will be for a month as the Miss World 2014 final is on December 14."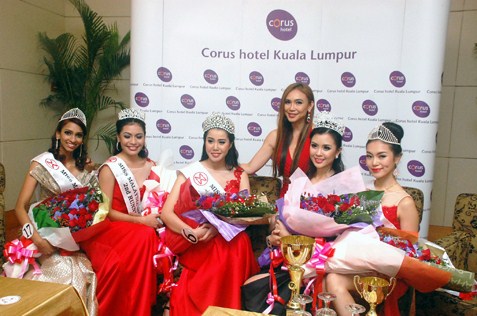 The first runner-up was 19-year old student Bob Low Sze Yie while the second runner-up was 21-year old student Cassandra Devi Jeremiah. 17-year old student Dhivya Dhyana Suppiah and 21-year old emcee/actress/student Olivia Shyan emerged as third and fourth runner-ups respectively.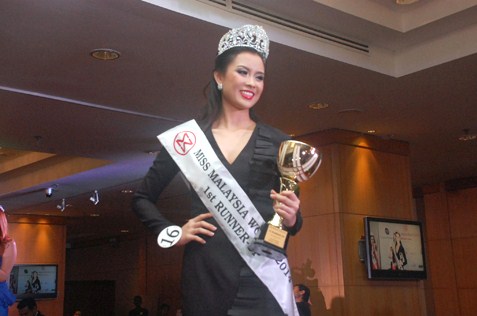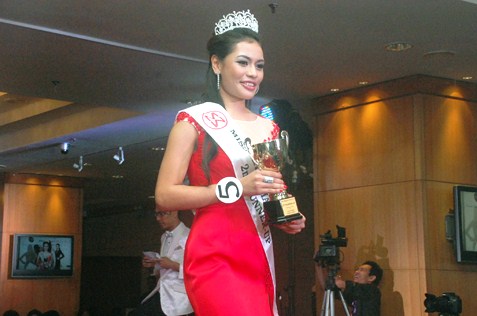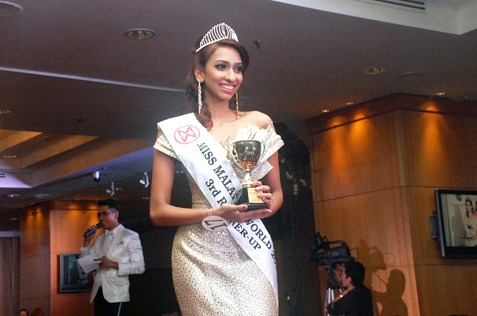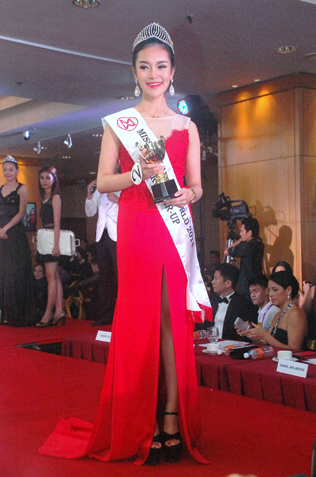 Semua berita dari laman web ini adalah hasil sumbangan rakyat Malaysia dari pelbagai lapisan masyarakat. Jika anda berminat untuk lebih mengetahui mengenai kursus penulisan dari Citizen Journalist Malaysia atau ingin menyumbang artikel anda, sila (KLIK SINI)
________________________________
All news posted on this website are written by Malaysians from all walks of life who are trained by Citizen Journalist Malaysia. If you are passionate about writing, photography or  video storytelling and would like to contribute your articles, photographs or videos of events that is happening in your community, please (CLICK HERE)
________________________________
For more updates, please like us on Facebook