Jacinda Rae Webb crowned ATV Miss Asia Pageant Malaysia 2014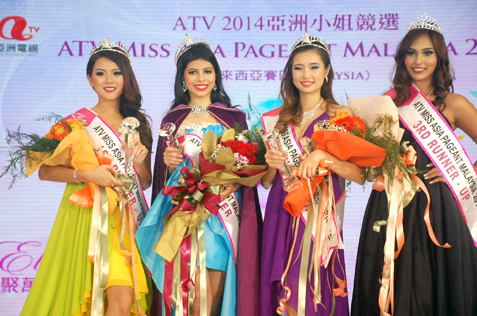 Jacinda Rae Webb was crowned as the new ATV Miss Asia Pageant Malaysia 2014 at the grand final at JW Marriot Hotel in Kuala Lumpur on September 12, 2014.
Jacinda, 21, from Selangor and is of mixed British-Chinese received RM30,000 worth of cash and prizes and will represent Malaysia to the international grand finals in Hong Kong in November this year.
She is a communication and media management student of Taylor's University Lakeside Campus who has just completed her final year and will be graduating next year.
"It's a new life. It's a beginning. Anything can happen. It can be quite scary as I will be representing the country. I will try to give my very best to bring the crown and title back for Malaysia," she said during a press conference after winning the crown.
Jacinda, standing 165cm tall, said she has never competed in pageants before this and expressed her surprise at the win.
"I entered the pageant for the experience. This is my first pageant and I just thought maybe it would be very good since I have done with the university course, it would be a great try to just see how everything will work out. You just never know what can happen.
"To be honest, I thought I was pretty much the same just like everyone. I got really nervous and I wouldn't say I would stand out but I think all of us really try our best," she said.
On appearing in bikini on stage, she said: "I am very conservative myself. I don't wear bikini very often so it's a very new thing for me to do. You know you just have to buck up, strut and suck it in, and try to keep smiling and pretend nothing's wrong and feel very confident."
She said the hardest and most challenging part of the pageant for her was public speaking.
"When I have to speak in front of judges, it can be quite scary. Never expect all those eyes staring at you and the questions they ask. What am I going to say? How am I going to answer?
"I hope by the time I leave for Hong Kong I would have double up or treble up my public speaking skills to see a different side of me."
Asked what she has gained most from this pageant, she answered friendship.
"With the 12 girls you can't afford not to make friend with any one of them. I am very happy that everyone keeps close by my side. When I couldn't do it, they tell me I can."
Jacinda also clinched the subsidiary titles of Miss Body Beautiful and Most Crowd Favourite.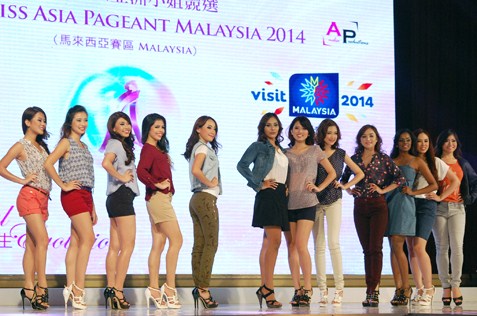 All the 12 finalists performed an opening number together, introduced themselves on stage and walked on the catwalk to show how beautiful they are in bikini, casual wear and evening wear.
Five selected finalists performed their talents in singing, dancing and spray art to the delight of the audience watching.
The finalists went through the Q&A round before the final eight were picked and then to the last four finalists.
The international panel of judges who included renowned model and celebrity Jenny Le Nguyen from Vietnam had a hard time deciding the winner but they eventually made the decision as there had to be a winner.
The first runner-up was 22-year old print ad model Jasmine Soo while the second runner-up was Michelle Loh. Leanndrea Anne emerged as the third runner-up.
The pageant was organised by franchise holder Amelia Productions and its principal Amelia Liew.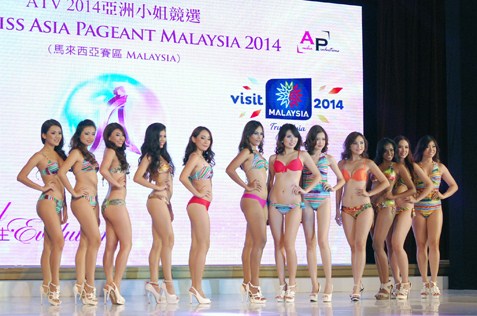 ATV Miss Asia Pageant Malaysia 2014
Winner: Jacinda Rae Webb, 21, student
1st Runner-up: Jasmine Soo, 22, print ad model
2nd Runner-up: Michelle Loh, 24, asst. marketing manager
3rd Runner-up: Leanndrea Anne
Subsidiary Title Awards
Miss Beautiful Hands: Mabel Chan, 24, asst. relationship manager
Miss Fitness: Leanndrea Anne, 23, freelance model
Miss Congeniality: Michelle Loh, 24, asst. marketing manager
Miss Natural Beauty: Daphyny Chen, 21, student
Miss Elegant: Jasmine Soo, 22, print ad model
Miss Popular Social Media: Justina Au Yong, 25, freelance model
Most Beautiful Eyes: Daphny Chen, 21, student
Miss Beautiful Skin: Jasmine Soo, 22, print ad model
Miss Body Beautiful: Jacinda Rae Webb, 21, student
Best Catwalk: Jasmine Soo, 22, print ad model
Best Talent: Michelle Loh, 24, asst. marketing manager
Most Crowd Favourite: Jacinda Rae Webb, 21, student
Semua berita dari laman web ini adalah hasil sumbangan rakyat Malaysia dari pelbagai lapisan masyarakat. Jika anda berminat untuk lebih mengetahui mengenai kursus penulisan dari Citizen Journalist Malaysia atau ingin menyumbang artikel anda, sila (KLIK SINI)
________________________________
All news posted on this website are written by Malaysians from all walks of life who are trained by Citizen Journalist Malaysia. If you are passionate about writing, photography or  video storytelling and would like to contribute your articles, photographs or videos of events that is happening in your community, please (CLICK HERE)
________________________________
For more updates, please like us on Facebook