Befrienders KL holds public forum on suicide prevention
Suicide is a critical public health issue in many countries worldwide, where there is frequent public misperception and lack of understanding due to the social stigma and taboo surrounding this topic. The recent loss of actor Robin Williams to suicide highlights the universality of this problem; afflicting rich and poor, famous and unknown alike. Many of the suicide cases reported in the local media in the past year involved students and people in the prime of their youth. Their loss not only depletes the future leadership pool of our country, it also leaves behind a trail of emotional devastation and incomprehension in their communities.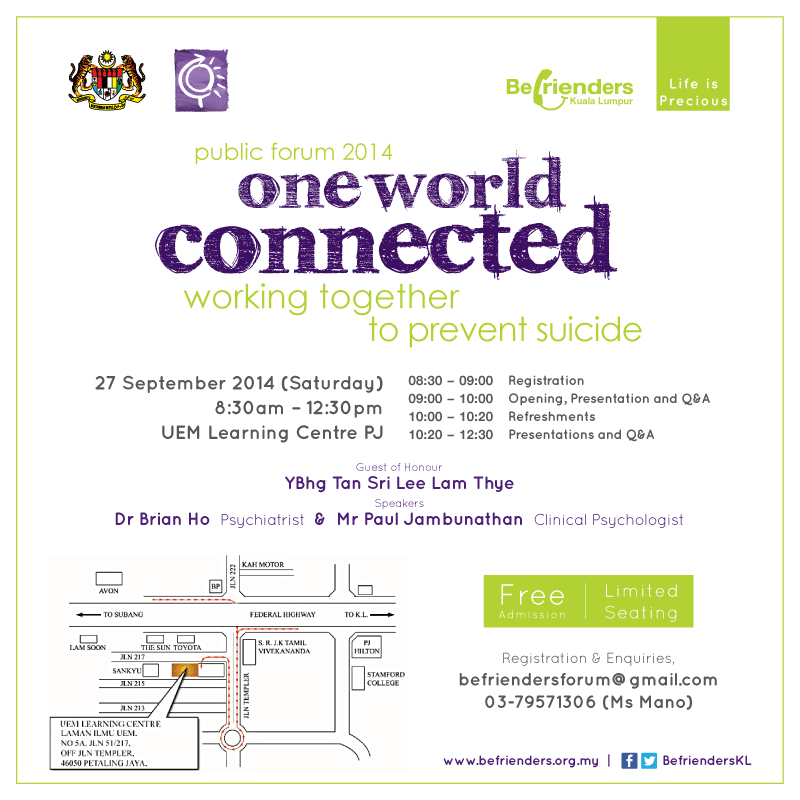 In recognition of the seriousness of this problem, Befrienders KL in collaboration with the Ministry of Women, Family and Community Development, will be organizing a public forum with the theme "One world connected: Working together to prevent suicide" on Saturday 27 September 2014 at UEM Learning Center PJ, 5A Jalan 51/217, Off Jalan Templer, 46050 Petaling Jaya. This forum is held to commemorate World Suicide Prevention Day on 10th September andforms part of our ongoing outreach effort to educate the general public on various aspects of suicide and effective suicide prevention approaches for individuals at risk. It also serves as a platform for psychologists, counselors, care-givers, volunteers from NGOs and other like-minded people to network and share information and methodologies related to suicide prevention.
The forum will be opened by YBhg Tan Sri Lee Lam Thye and the welcoming address will be given by Ms. L. Mary Raj, Befrienders KL Chairman. The speakers are Dr. Brian Ho, a psychiatrist on the panel of consultants of Befrienders KL who is currently in private practice, and Mr. Paul Jambunathan, a clinical psychologist at Sunway Medical Center. The topics that they will present on are 'Suicidal Behaviour: The Hows, Whys and Whats' and 'Resilience' respectively. There will be a question and answer session after each presentation to allow interactive dialogue between the speakers and the audience. The presentations will be interspaced with a short break for refreshments.
Statistics from the World Health Organization (WHO) indicate that every year, over 800,000 people die from suicide. It was estimated that during 2012, for each adult who died of suicide there were over 20 others who made suicide attempts. The number of lives lost through suicide exceeds the number of deaths due to homicide, terrorist acts and war combined. In recognition of the magnitude of this tragedy, WHO has designated Sept 10th as World Suicide Prevention Day: an annual event that has run since 2003 to focus global attention on the issue of suicide, as well as celebrate worldwide initiatives and success at mitigating the problems related to it.
Suicide is a complex issue which involves the interplay of a variety of psychological, social, biological, cultural and environmental factors. Research studies have repeatedly shown that social isolation can increase the risk of suicide and, conversely, that having strong human bonds can be protective against it. Connectedness is therefore crucial to individuals who may be vulnerable to suicide, as well as the public health and voluntary organizations that need to coordinate their efforts at suicide prevention. The topic of this year's public forum thus reflects this theme of interconnectedness.
Befrienders is a non-profit, voluntary service organization that provides 24 hour free confidential emotional support / befriending to those who are suicidal, depressed or in despair. The service is provided by over 100 trained volunteers via telephone, email or face-to-face meetings. In addition, we conduct workshops and seminars on suicide-prevention and life-coping skills to public groups such as schools, colleges, universities, youth groups, marginalized communities, religious organizations and other voluntary bodies. Last year, we received 21,507 contacts from persons in crisis who needed someone to share their pain with. Our aim is to help reduce the risk of suicide in the community. In this regard, Befrienders KL is a member of the Ministry of Health's National Suicide Prevention Programme.
The hotline numbers for the various Befriender centers throughout Malaysia are as follows:
Kuala Lumpur, 03-79568145 24 hours,
[email protected]
    Penang, 04-2811108 Mon – Thu 3.00pm to midnight, Fri 3.00pm to Sat 6.00am, Sat, Sun 5pm – 11pm     Ipoh, 
05-5477933
Mon – Sat 4.00pm to midnight
Sun – 24 hours     Malacca, 06-2842500 7.00pm – midnight     Seremban, 06-7653588 7.00pm – 10.00pm     Johor Bahru, 07-3312300 4.00pm – midnight     Kota Kinabalu, 088-255788 7.00pm – 10.00pm     Muar, 06-9520313 8.00pm – 11.00pm